Series includes 12x12x7 option and brings back preferred features.
These days, it's a race against the clock when it comes to technology. It's a race to see who can innovate the quickest. Well, here at Kele, we're always working and innovating to give you, the customer, what you want—and we've heard you loud and clear on what you want from enclosure. So allow us to reintroduce the new and improved RET1!
Features Include:

New Size: 12x12x7″
Perforated Panels That Are Now Powder Coated Steel
Lift-Off Hinges
Slot Holes That Allow For Rough-In
The RET1, formerly the RET, has long been a staple product of Kele's. Over the past 30+ years, this economical NEMA 1 enclosure, designed to house controls and instruments for indoor use, has seen a lot. As before, it comes standard with a key lock compatible with the original RET, is available in multiple sizes, and all sizes are UL-listed. Its perforated panels are powder coated and once again ship with the enclosure so they don't have to be ordered separately. The scratch-resistant finish is available in multiple colors, and all original colors are available, including Brown-Tan and Green! The RET1 enclosure now has welded butt hinges with removable pins, so the door can be detached for rough-in, allowing for easy panel and component installation, and can be field adapted to reverse the door hinge orientation. And if that wasn't good enough, the RET1 now boasts a new size of 12x12x7—meaning increased options and flexibility for you on the jobsite! If you want to learn more about the RET1 and its features, click here.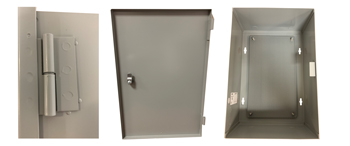 We know that generating ease on the jobsite can be difficult sometimes—which is how we know you'll love the new and improved RET1 as much as we do. With its new features and sleek design and finish, it will help make things easier when you're trying to stay on schedule and on budget. So call today or shop now on kele.com—Kele's got you covered.