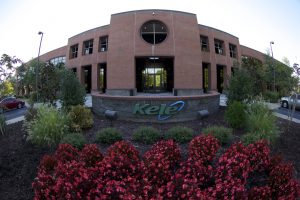 Founded in 1983 and based in Memphis, TN, Kele, Inc. pioneered the supply chain for the BAS industry—offering most any component needed for a building management system. Today, Kele provides same-day shipping from our massive in-stock inventory, custom panels, calibration and assembly, specialized sourcing and project services, technical support, and industry-leading eCommerce tools to enhance and speed up the ordering process for customers.
The whole idea of Kele began with the unique needs of BAS contractors and engineers in mind – an idea that has now grown into 39+ years of outstanding customer service and unmatched technical support. In fact, our client-facing, onsite technical team has a total of 350 years of combined experience!
How it All Began
Our founders, Roger Johnson and Ronnie Randall, were principals in the G.H. Avery Company when they personally experienced the birth of the building automation industry in 1983. One of the challenges they faced, along with others in the early days of automation, was finding products that would fit the input and output requirements of the automation systems they were installing. While ample products were available from a multitude of manufacturers, finding the right products for a specific application, all from the same manufacturer, was impossible.
The idea for a single source supplier that could offer a carefully crafted product selection and convenient customized service for everything input/output grew into Kele & Associates, the first building automation distributor to offer an all-inclusive platform. Our customers embraced this concept and helped grow Kele from a small idea in a garage to an industry powerhouse.
What We Do
At Kele, we know how important it is to get you the building automation products and solutions you need FAST so that your job stays on time and on budget. That's precisely why we have invested in our massive inventory, warehoused strategically in Memphis, TN – the largest air freight hub in the world. As an authorized distributor for 300+ suppliers, we have access to millions of SKUs to get you what you need. When you need it now, Kele's got you covered.
Where We Are Now
Kele & Associates is where we began our journey and we've gone through quite the evolution since then. Known today as The Kele Companies, we bring together five well-established stocking distributors and solutions providers for building automation, HVAC, and process automation. With 13 strategic locations across the U.S. and Singapore, The Kele Companies serve customers in both commercial and industrial markets better and faster—simplifying the supply chain and making life on the job easier one customer at a time.