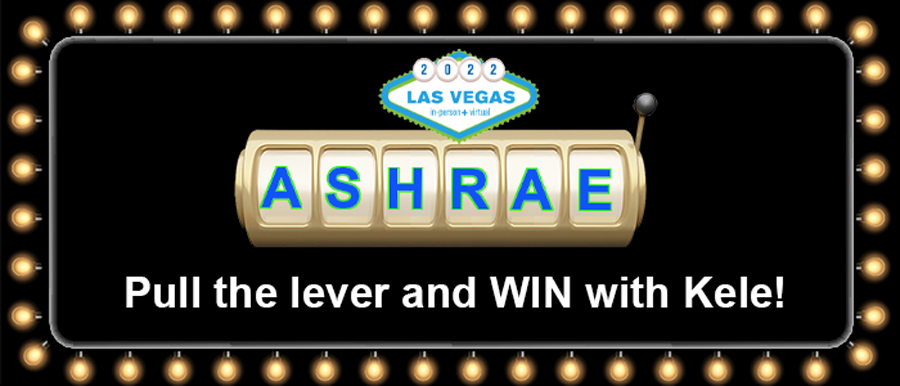 Play the Kele slot machine and win every time
Part Three of a multi-part series
We all know that Vegas is the capital of go big or go home. And these days, you need the same attitude to tackle your workload. Because lately? Trying to get everything you need for your upcoming HVAC/BAS job is the equivalent of putting on a show at the Bellagio or The Venetian.
You're trying to stay on schedule, under budget, and all that jazz (all whilst keeping all the glitz and glam of HVAC/BAS alive). Add in some blinking neon lights to spotlight your stress levels and you've got a show that encompasses the issues everyone in the industry is currently facing. And after attending the 2022 ASHRAE Winter Conference and experiencing what we did, we know that everyone in the audience would be able to relate to your very realistic show.
Raw materials such as aluminum, copper, steel, and plastic are in short supply, creating a bottleneck within the industry from a manufacturing standpoint. Most suppliers can't get you parts because they just haven't been made yet. Or they're missing the microchips needed to function (i.e. thermostats, furnaces, etc.,). Supply chain issues seem to be never-ending and it's a problem that will persist throughout the rest of 2022 and into 2023.
The Wall Street Journal recently ran an article on how contractors and HVAC/BAS professionals alike are navigating the current economic climate while simultaneously inventing workarounds for suppliers who can no longer deliver on in-demand parts. And if that wasn't enough of an issue, staffing and labor shortages are causing those projects and break/fix jobs to pile up even more. Everything seems to be working against you industry-wide; it's as though every time you bet on red it turns up black. But Kele is committed to getting you back to winning every time you play.
We know that your workload continues to grow; cashing in your chips on a completed job is only getting harder. We're working overtime (like an Elvis impersonator officiating elopements) to make sure that your "marriage" to your supplier, aka us, is the relationship of a lifetime. From keeping 3 million+ parts in stock to offering staging and tagging for your orders, we're in it for the long run. We're committed to getting you what you need, when you need it and being there for you every step of the way.
It's been said that going to Vegas means saying goodbye to your money. Going to Kele though? It means saying goodbye to your project and break/fix problems and saying hello to the parts you need.
In case you missed the first two articles in our ASHRAE series, click the links below to catch up on what you missed. Get ready to hit the jackpot and win when you shop with Kele! Thanks for catching up with us about everything we experienced at the 2022 ASHRAE Winter Conference.
Part Two: Behind the scenes with Kele at ASHRAE: Focus on the supply chain
Part One: Behind the scenes with Kele at ASHRAE: Focus on the education