Part 2 of a 2-Part Series
Read Part 1 here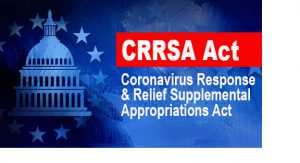 Do your customers know that they have a deadline to meet when it comes to spending the federal funding they've received regarding COVID-19? Well, the Coronavirus Response and Relief Supplemental Appropriations (CRRSA) Act has funds available through September 30, 2023. This is your friendly reminder that such funding will come to an end in a little over a year, so now is the time to spend those funds on critical needs within schools.
Just how much funding is coming out of such acts? In the state of Tennessee alone, public schools will receive over $4.5 billion in federal funding through such relief acts as Elementary and Secondary School Emergency Relief and others. These funds can and will be used between spring 2020 and fall 2023. This funding is meant to support K-12 schools in various ways, from purchasing supplies to clean and sanitize facilities to facility repairs and maintenance that have to do with HVAC/BAS.
Here are two examples of acts that are ready to help and support schools—the American Rescue Plan (ARP) and the Governor's Emergency Education Relief Fund (GEER). Both have similar if not the same regulations and funding rules such as:
Available through September 30, 2023
Supports purchases made to clean and sanitize facilities
Supports repairs and improvements made to facilities that result in safer in-person instruction and reduce the risk of virus transmissions
Supports funding for repair, replacement, inspection, testing, maintenance, and upgrades that trend towards improvement in indoor air quality (IAQ) including but not limited to air purification, air filtering, ventilation systems, air sterilization, and fans
Now the ARP, according to the U.S. Department of Health and Human Services, "…provides critical and unprecedented support to children, families, and communities in response to the COVID-19 pandemic and resulting economic downturn, which has been exacerbated by historic racial injustices. As one of the largest stimulus packages in U.S. history, ARP endowed ACF with $47.5 billion in supplemental funding to further our mission and meet the needs of the children, families, and communities we serve now, as well as build a strong foundation for the next generation."
Similarly for the GEER, according to the Office of Elementary & Secondary Education, "Congress set aside approximately $3 billion of the $30.75 billion allotted to the Education Stabilization Fund through the Coronavirus Aid, Relief, and Economic Security (CARES) Act for the Governor's Emergency Education Relief Fund (GEER) Fund (in 2020). The Department awarded these grants ¬to States (Governor's offices) based on a formula stipulated in the legislation: (1) 60% on the basis of the State's relative population of individuals aged 5 through 24. (2) 40% on the basis of the State's relative number of children counted under section 1124(c) of the Elementary and Secondary Education Act of 1965 (ESEA)."
Don't let your customer forget about the money already in their budget. These funds help make their life (and yours!) easier when it comes to allocating costs for projects.
Kele is here to help in any way that we can. From start to finish, we will help you maximize your customer's funds to get you what you need for success on the job. Whether it's a large project or a small break/fix, we're here to help you get that win for your customer. Shop now on kele.com or call today —Kele's got you covered.
Doing an interesting project or break/fix with these funds? Drop a line in the comment box below to tell us how your customers are spending their federal funding!