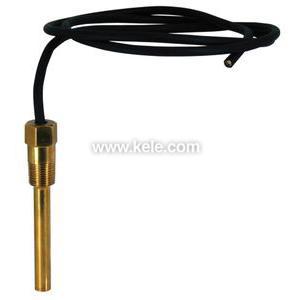 ST-TS42 | Kele | Temperature Sensors & Transmitters
Submersible Temperature Sensor, 20K Thermistor
Manufacturer:
Kele
MPN:
ST-TS42
SKU:
ST-TS42
add to cart

product specifications
T81U-XR||T91U-XR||TCC-111||TCC-12||UR||WEK-B||WEL-S
Submersible Temperature Sensor, 20K Thermistor
TEMP SENSOR, IMMERS, 20K, 3.25" PROBE, NO ENCL
product family features
Wide selection of thermistor and RTD curves
Brass thermowell for quick temperature response
Ultra high accuracy optional
more information & related documents
The Precon ST-TS* Series Tank Thermistor and RTD Sensors provide precision remote temperature sensing for cooling tower tanks for use in building automation systems. The active sensing element is a highly stable precision thermistor material or platinum RTD. The sensing element is rugged and sealed in a thermally conductive compound. The housing is a standard brass immersion well that has the weight to keep the sensor submersed and is compatable for all liquids suitable with brass. Water resistant cable is used.
TEMP SENSOR, IMMERS, 20K, 3.25" PROBE, NO ENCL