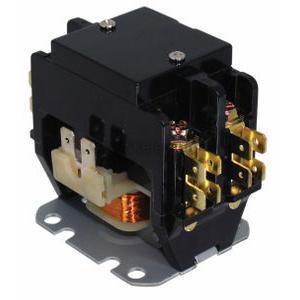 DPC24A2D30 | HECHENG ELECTRICAL CO. (MFG.) | Relays & Contactors
Definite Purpose Contactor, 2 Pole, 24 VAC, 40A
Manufacturer:
HECHENG ELECTRICAL CO. (MFG.)
MPN:
DPC24A2D30
SKU:
DPC24A2D30
add to cart

product specifications
Electrical Loads||Air Conditioning||Refrigeration Compressor||Motors||Resistance Heaters
Definite Purpose Contactor, 2 Pole, 24 VAC, 40A
CONTACTOR, 2 POLE, 24 VAC, 40A
product family features
Two-, three-, and four-pole models
Contact ratings from 30-60 FLA
Optional auxiliary contacts on select models
more information & related documents
The Hecheng Electrical DPC Series is an economical line of definite-purpose contactors designed to control electrical loads such as air conditioning, refrigeration compressor, motors, and resistance heaters.
CONTACTOR, 2 POLE 30A, 24VAC
HECHENG ELECTRICAL CO. (MFG.)