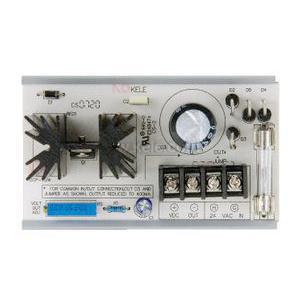 DCP-1.5-W | Kele | Power Supplies
Power Supply, 24 VAC Input Voltage to 24 VDC Output Voltage, 1.5 A
Manufacturer:
Kele
MPN:
DCP-1.5-W
SKU:
DCP-1.5-W
Availability:
Contact Kele for more information
product specifications
Building Automation System||HVAC||BAS
Power Supply, 24 VAC Input Voltage to 24 VDC Output Voltage, 1.5 A
POWER SUPPLY, 24 VAC, 24 VDC||1.5-27 VDC, 1.50 A
product family features
Screw terminals with pressure plates
more information & related documents
The Kele DCP-1.5-W is a regulated 1.5A power supply that accepts 24 VAC at the input and provides 24 VDC at the output. The DCP-1.5-W can be ordered with any output voltage from 1.5V to 27 VDC. Field voltage adjustments may also be made using only a screwdriver. The power supply is provided with a mounting track for easy field application. This low cost power supply features good regulation and has full overcurrent protection.