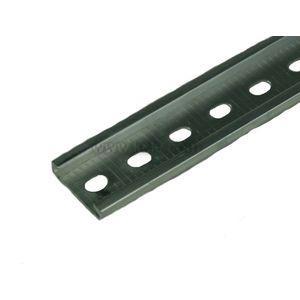 MPC-3 | Marathon Special Products | Panel Fabrication
3-Foot Channel For Sectional Fuse Holder
Manufacturer:
Marathon Special Products
MPN:
MPC-3
SKU:
MPC-3
Availability:
106 In Stock
add to cart

product specifications
3-Foot Channel For Sectional Fuse Holder
3-FOOT CHANNEL FOR SECTIONAL FUSE HOLDER
product family features
Sectional design for layout flexibility
Kant Kut wiring connectors
more information & related documents
Model 6G38 sectional terminal blocks are individually molded blocks that can be assembled to produce a terminal strip for the required number of circuits. Each terminal block is a proven performer for Building Automation Systems, BAS, applications. The larger size of these 3/8" blocks makes wiring terminations easier for both small and large wire gauges. The Model 6G38-TSKK-C is channel mounted and can be used in conjunction with the Model 6W30 sectional fuse holder.
MARATHON TERMINAL TRACK (36IN)
Marathon Special Products