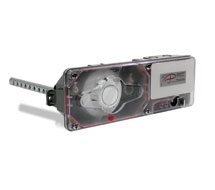 * product family image displayed
SL-2000-P | Apollo America | Gas & Specialty Sensors
SMOKE DETECTOR DUCT PHOTOELECTRIC
Manufacturer:
Apollo America
MPN:
SL-2000-P
SKU:
SL-2000-P
Availability:
62 In Stock
add to cart

product family specifications
24 VAC @ 55 mA standby, 190 mA alarm
24 VDC @ 15 mA standby, 70 mA alarm
115 VAC @ 16 mA standby, 32 mA alarm
230 VAC @ 10 mA standby, 20 mA alarm
Alarm (2) SPDT, 10A, 115 VAC, resistive
Alarm (1) SPST-NO, 2A, 115 VAC, resistive
Trouble (1) SPDT, 10A, 115 VAC, resistive
100-4000 fpm (0.5-20.3 mps)
32° to 158°F (0° to 70°C)
32° to 140°F (0° to 60°C)
10% to 85% RH non-condensing
NEMA 1, Gray plastic back box, clear plastic cover
4.5"H x 13.5"L x 2.25"D (11.4 x 34.3 x 5.7 cm)
product family features
Low-flow technology, 100-4000 fpm
Universal voltage: 24 VAC, 24 VDC, 115 VAC, or 230 VAC
Two Form C and one Form A alarm contacts and one trouble contact
Interchangeable ″plug-in″ photoelectric or ionization heads
Compatible with building automation and fire alarm systems
Dust filtering included in detector head
Interconnect up to 30 detectors for common functions
Compatible with MS Series Remote Accessories
Cover removal trouble indication
Front or rear loading sampling tubes
Optional weatherproof enclosure
more information & related documents
The Air Products & Controls SL-2000 Series Duct Smoke Detectors provide early smoke detection and sense combustion products present in air moving through HVAC ducts. Designed for use in building automation systems, BAS, each duct smoke detector uses intake sampling tubes to gather air samples. These are sold separately. A standard length exhaust tube is provided with each detector. These devices are designed to prevent the recirculation of smoke in areas by the air handling systems, fans and blowers. Complete systems may be shut down in the event of smoke detection.
SMOKE DETECTOR DUCT PHOTOELECTRIC