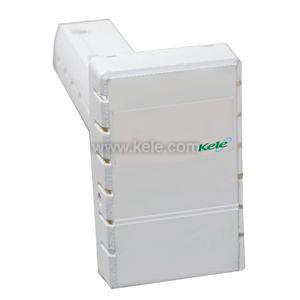 KCD-D-V | Kele | Gas & Specialty Sensors
Carbon Dioxide Sensor, Duct Mount, 0-10 VDC
Manufacturer:
Kele
MPN:
KCD-D-V
SKU:
KCD-D-V
Availability:
109 In Stock
add to cart

product specifications
Carbon Dioxide Sensor, Duct Mount, 0-10 VDC
CO2 SENSOR, DUCT, ±40 PPM, 0-2000 PPM, 0-10 VDC, 0 RELAY, NO LCD, PLASTIC ENCL, NO RATING
product family features
0-10 VDC or 4-20 mA output (0-5VDC on units with temperature option)
Wall-mount and duct versions
Reverse polarity protected
Simple push-button calibration
more information & related documents
The Kele KCD Series carbon dioxide sensor was designed to offer an economical, reliable, non-dispersive infrared carbon dioxide sensor. The KCD carbon dioxide detector measures environmental CO2 levels for use in demand-controlled ventilation, air-quality monitoring, and other Building Automation Systems, BAS, HVAC applications in accordance with ASHRAE standards. Fully isolated voltage analog outputs and convenient flying leads on the wall mount make installation both simple and trouble-free. The analog output is available in 0-10 Volt DC or 4-20 mA, over the industry standard 0-2000 ppm CO2 range.