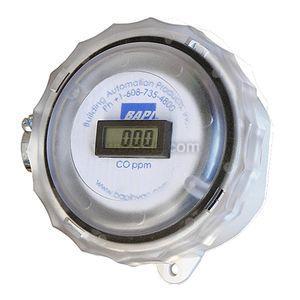 BA/420CO-3-D-EUO-FM | BAPI | Gas & Specialty Sensors
4-20 mA Carbon Monoxide Sensor/Transmitter, 0-300 ppm, LCD Display, UV-Resistant Plastic Enclosure, 3/4" Conduit Adapter Only
Manufacturer:
BAPI
MPN:
BA/420CO-3-D-EUO-FM
SKU:
BA/420CO-3-D
availability:Usually Ships in Less Than 10 Business Days
add to cart

product specifications
4-20 mA Carbon Monoxide Sensor/Transmitter, 0-300 ppm, LCD Display, UV-Resistant Plastic Enclosure, 3/4" Conduit Adapter Only
CO SENSOR, WALL, ±5 PPM, 0-300 PPM, 4-20 MA, 0 RELAYS, LCD, ABS ENCLOSURE, NEMA 4X
product family features
High accuracy at low concentrations
Long life electrochemical sensor
Rugged housing with mounting tabs
Calibration certificate included
more information & related documents
Continuously monitor for carbon monoxide (CO) with the BAPI BA/420CO Series Carbon Monoxide Sensor. The unit is equipped with an on-board electrochemical sensor and provides a 4 to 20 mA output signal proportional to the carbon monoxide concentration detected. The BA/420CO features a rugged housing with mounting tabs for easy installation. An optional LCD display is available for local indication. Units are factory calibrated and ready for field installation and operation. The BA/420CO is designed to be used as part of a control system that helps to prevent the formation of a hazardous environment when properly installed and maintained. For more information on the proper application and use of this product please read "Environmental Safety Devices" in our technical reference section.
CO SENSOR W/ DISPLAY 300 PPM
BA-420CO Instruction Manual