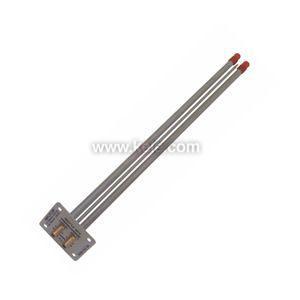 AMP-5 | Nailor Industries | Flow
5in Ampliflow Flow Sensor
Manufacturer:
Nailor Industries
MPN:
AMP-5
SKU:
AMP-5
Availability:
Lead time > 15 days. See alternatives below or chat with Sales.
add to cart

product specifications
5in Ampliflow Flow Sensor
5IN AMPLIFLOW FLOW SENSOR
product family features
Multipoint readings for average velocity pressure
Rugged, extruded aluminum construction
Sensor is capped for field calibration
Three-to-one ratio pressure signals
Adaptable to round, square, or oval ducts
1/4" barbs for 3/8" OD tubing
more information & related documents
The AMP Series Ampliflow air velocity sensor is designed to measure air flow velocity in HVAC duct systems. Ideal for Building Automation Systems, BAS, and HVAC applications, the design of the airflow sensor allows it to amplify the velocity pressure by a factor of three, which, in turn, allows accurate measurement of low air flow velocities. The velocity sensor has sensing holes along the length of the tube that yield an average velocity pressure reading for greater accuracy. The simple design of the AMP Series allows quick, easy installation in new or existing ductwork.
5IN AMPLIFLOW FLOW SENSOR