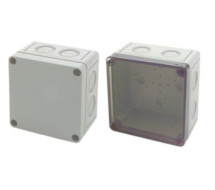 * product family image displayed
TK1818 | Altech | Enclosures
TK FITTING PLATE 5.91X5.91
Manufacturer:
Altech
MPN:
TK1818
SKU:
TK1818
Availability:
20 In Stock
add to cart

product family specifications
Materials Of Construction
Polystyrene, impact-resistant, non-flammable Seal Polyurethane
-40° to 158℉ (-40° to 70℃)
1/2″ NPT (2.3 cm), 3/4″ NPT (2.9 cm)
product family features
Impact-resistant, nonflammable materials
Dustproof and moistureproof - IP66 (NEMA 4X)
No drying, cracking, or deteriorating of integral seal
Corrosion and maintenance free
more information & related documents
The versatile PS Series non-metallic electrical boxes are constructed only of flame-resistant materials. Rated for protection mode IP66 (similar to Nema 4X), these enclosures give complete protection from dust, water jets, and even temporary flooding making them ideal In building automation systems, BAS, and HVAC applications. Standard electrical enclosures from Kele have knockout side walls, gray bases, and gray covers. Optional fitting plates for electric boxes are available for easy mounting of control components inside the PS Series. If a project requires multiple panels configured in the same way, consider using Kele's Custom Panel Shop. Experienced panel technicians will assemble the panels according to specifications and drawings. Then, panels are shipped to a desired location. The information is saved so additional panels can be easily ordered on demand.
TK FITTING PLATE 5.91X5.91