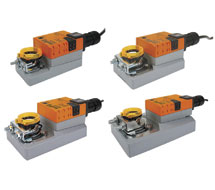 AHX24-MFT-300-C | Belimo | Actuators & Dampers
ACT/NSR/101LBF(450NF)/24VAC/VDC/MFT
Manufacturer:
Belimo
MPN:
AHX24-MFT-300-C
SKU:
AHX24-MFT-300-C
availability:Usually Ships in Less Than 7 Business Days
add to cart

product family specifications
24 VAC ±20% 50/60 Hz, 24 VDC ±10%, 100 VAC, 240 VAC
3' (0.9 m) plenum cable, 18 AWG, terminals
95 degrees, Rev. with switch
<45 db @ 3' (1m); <35 db @ 3' (1m) (LMB models)
100,000 cycles, 1 million repositions
-22° to 122°F (-30° to 50°C)
product family features
Manual override for testing and verification
Reversing switch for control flexibility
CSA and CE approved for worldwide application
Plenum-rated housing and cable connections
NEMA 4 models available for outdoor locations
more information & related documents
The Belimo LMB, NMB, AMB, GMB Series direct coupled damper actuators and valve actuators provide damper control and valve control for non-spring return applications in Building Automation Systems, BAS, or HVAC environment. Each actuator comes in two-position, tri-state (floating), proportional, and Multi-Function Technology (MFT) models. All actuators include a manual release mechanism for manual override.
ACT/NSR/101LBF(450NF)/24VAC/VDC/MFT
Belimo MFT Programming Codes
AM Actuators Technical Manual
Non-Spring Return Actuator Cross Reference Chart
NM Actuators Technical Manual
SGA, SGF Remore Positioners Data Sheet
ZG-JSL Jackshaft Linkage Installation Instructions
ZG-JSL Jackshaft Linkage Submittal
GM Actuators Technical Manual
LM Actuators Technical Manual
LU Actuators Technical Manual