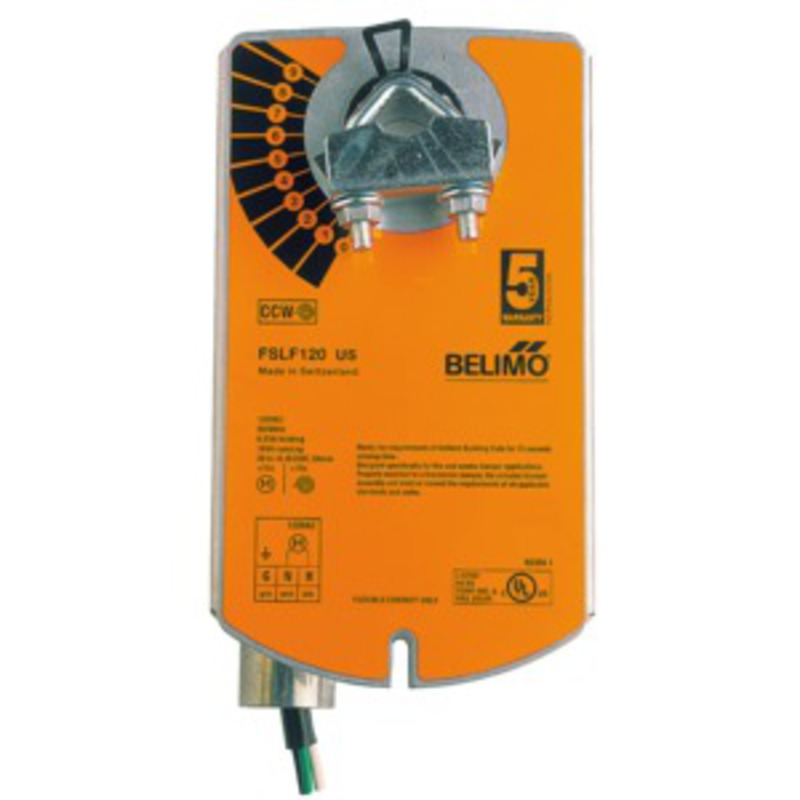 FSLF230-S US | Belimo | Actuators & Dampers
Fire & Smoke Actuator, 30 in-lb, Spring Return, 230V, On/Off, 2SPST, 1m Cable
Manufacturer:
Belimo
MPN:
FSLF230-S US
SKU:
FSLF230-S
availability:Usually Ships in Less Than 7 Business Days
add to cart

product specifications
cULus acc. to UL60730-1A/-2-14, CAN/CSA E60730-1:02, Listed to UL 2043 - suitable for use in air plenums per Section 300.22(C) of the NEC and Section 602 of the IMC.
NYC Department of Buildings MEA 197-07-M
California State Fire Marshal Listing 3210-1593:102

Ambient Temperature (Safety)
3 on/off cycles after 30 minutes at ambient temperature of 350°F [177°C]
Ambient Temperature Range
32°F to 122°F [0°C to 50°C]
Fire & Smoke Actuator, 30 in-lb, Spring Return, 230V, On/Off, 2SPST, 1m Cable
Direction of Rotation (Fail-Safe)
can be selected by CCW/CW mounting
Direction of Rotation (Motor)
can be selected by CCW/CW mounting
3 ft [1 m], 18 GA, 3 color coded leads
5 to 95% RH non-condensing
visual indicator, 0° to 95° (0° is full spring return position)
Power Consumption Holding
5.5 VA (50 Hz 8 VA), End stop 27 VA, 0.125 slow blow fuse *
Power Consumption Running
50 Hz, 17 VA / 60 Hz, 17 VA
230 VAC, 50/60 Hz, nominal voltage range 207-253 VAC
<15 sec at rated voltage and torque 32°F to 122°F [0°C to 50°C]
3/8" to 1/2" round, centers on 1/2"
Storage Temperature Range
-40°F to 176°F [-40°C to 80°C]
30 in-lbs [3.5 Nm] minimum from 32°F to 350°F [0°C to 177°C]
product family features
ISO 9001 Certified Quality Control and a 5-year warranty assure reliable operation
24, 120 and 230 VAC to meet various
24 VDC model (FSAF only) with 2-position and proportional control for DC power applications
Unique FSAF24-BAL actuator allows duct balancing capabilities in fire and smoke dampers
UL555 and UL555S listed with U.S. damper manufacturers
more information & related documents
Belimo's broad product line of fire and smoke damper actuators covers the established range of system applications including active smoke control for stairwell, under-floor and other pressurization applications.
ACT/FIRE/SMOKE/230VAC/30INLB/ON/OFF/2SPST/1MCAB