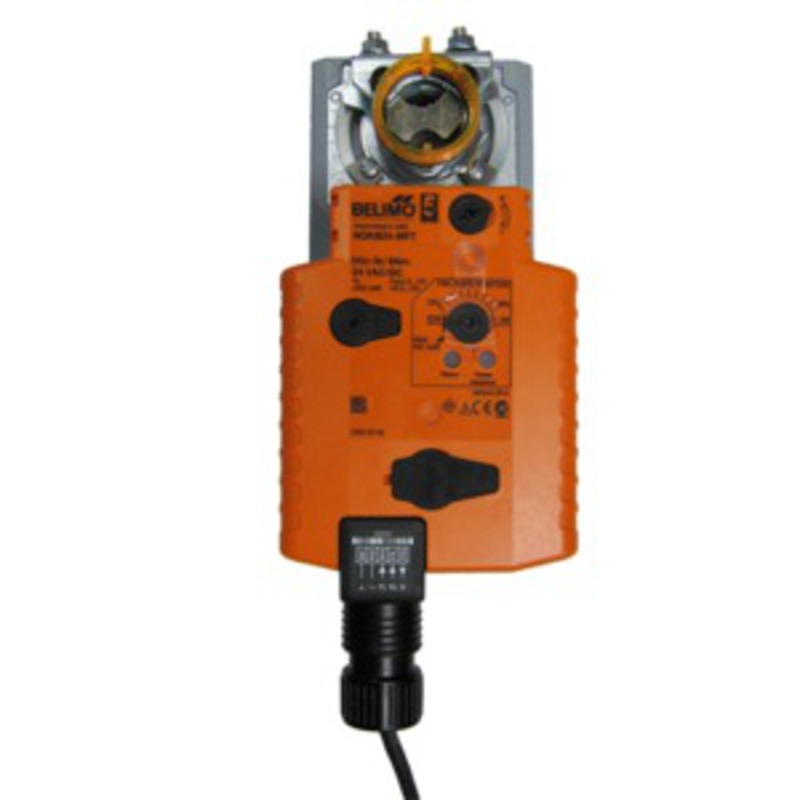 NKQB24-1 | Belimo | Actuators & Dampers
Damper Actuator, 54 in-lb, Electronic Fail-Safe, 24V, On/Off
Manufacturer:
Belimo
MPN:
NKQB24-1
SKU:
NKQB24-1
availability:Call Kele For Availability
add to cart

product specifications
cULus acc. to UL60730-1A/-2-14, CAN/CSA E60730-1:02, CE acc. to 2004/108/EC
Ambient Temperature Range
-22°F to 122°F [-30°C to 50°C]
Damper Actuator, 54 in-lb, Electronic Fail-Safe, 24V, On/Off
Direction of Rotation (Fail-Safe)
Direction of Rotation (Motor)
reversible with built-in switch
3ft [1m], 18 GA plenum cable with 1/2" conduit connector
NEMA 2, IP54, UL enclosure type 2
max. 95% RH non-condensing
reflective visual indicator (snap on)
Power Consumption Holding
Power Consumption Running
24 VAC ± 20%, 50/60 Hz, 24 VDC ± 10%
Quick (2.5 to 20 seconds)
4 sec constant, independent of load
1/2" to 1.05" round, centers on 1/2" and 3/4" with insert, 1.05" without insert
Storage Temperature Range
-40°F to 176°F [-40°C to 80°C]
22 VA (class 2 power source)
product family features
Standard 4 second drive time
Standard 1/2″ to 1.05″ clamp
3' plenum rated cable with conduit connnector
more information & related documents
The Belimo NKQ Series actuators are electronic, fail safe, fast acting actuators. They are designed to deliver a 4 to 10 second (4 second is standard) fail safe return. They are not spring return, but rather they are driven by a super capacitor which allows a very fast return to the normal or fail safe position desired. The basic models come in both ON/OFF and 2-10VDC options. Auxillary switches and feedback options are available on the NKQB24-1 model. The NKQB24-SR comes with a feedback of 2-10 VDC standard and the auxillary switch is an optional add-on. For more customized control, the NKQx-MFT models can be custom ordered based on the options available.
ACT/FAILSAFE/54IN-LB(6NM)/24VAC/DC/ON/OFF/4SEC
NKQ Series Datasheet