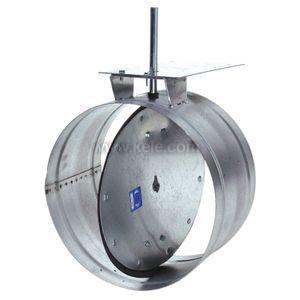 CDRS25GS1B22 | Ruskin Manufacturing | Actuators & Dampers
The CDRS25 Commercial Control Butterfly Damper Installs Easily In Round Spiral Ductwork. Galv. Round, Dual Skin Blade, Class II Leakage, Heavy Duty, 4000 Fpm, 10" W.C. Max. 22 Round Damper, Silicone Seals, Mounting Plate
Manufacturer:
Ruskin Manufacturing
MPN:
CDRS25GS1B22
SKU:
CDRS25GS1B22
availability:Usually Ships in Less Than 14 Business Days
add to cart

product specifications
The CDRS25 Commercial Control Butterfly Damper Installs Easily In Round Spiral Ductwork. Galv. Round, Dual Skin Blade, Class II Leakage, Heavy Duty, 4000 Fpm, 10" W.C. Max. 22 Round Damper, Silicone Seals, Mounting Plate
22 RND DMPR, SILICONE SEALS, MNTG PLT
product family features
Round sizes from 4" to 24"
Velocities up to 4000 FPM
Neoprene blade seal standard
Two-ply blade, strength equivalent to 14-gauge steel
more information & related documents
The Ruskin CDRS25 Series round damper frames are made of 20-gauge welded, galvanized steel, 7" in length. Blades are double-skin galvanized steel, strength-equivalent to 14-gauge steel but lighter to handle. Shaft extensions are 1/2″ diameter with stainless-steel bearings for long-life damper actuation. Standard neoprene blade edge seals offer superior low-leakage performance. Optional aluminum or stainless-steel construction is available, as well as an actuator mounting bracket.
22 RND DMPR, SILICONE SEALS, MNTG PLT