The Belimo Zip Economizer is really a cool product that captured my attention.  If you are or were in the field like I was, I'm sure you've struggled just as I did with the "Black Box" style of economizer modules.  They could be difficult to commission at start-up if the OSA (outside air) was not cool enough for economizing.  Also, after installation, troubleshooting the "Black Box" style module was an extremely difficult challenge at best.  There was almost no way to tell what the unit was doing or what mode it was in.  Belimo's design team must have had input from field techs because they have designed a product that is easy to install and commission.  It is also a breeze to troubleshoot, making it easy to determine if there is a problem and what that problem is.
The "Zip" in Zip Economizer stands for zip code, as in your postal zip code.  No more fumbling with graphs and temperature curves to determine the settings or cross-referencing energy codes.  All you have to do is enter the 5-digit zip code and you are done.  Now THAT is cool!!!  This step will also set up the economizer operation for compliance with all of the following codes and standards.
ASHRAE 90.1 – Energy Standard for Buildings Except Low-rise Residential Buildings
IECC – International Energy Conservation Code
California Title 24 – California building energy efficiency standard
NECB – National Energy Code of Canada for Buildings
This cool Econ-Zip Economizer also has an LCD display that shows live status information, alarms and failures, and also operating history.  Check out these features and don't overlook the 5-year warranty.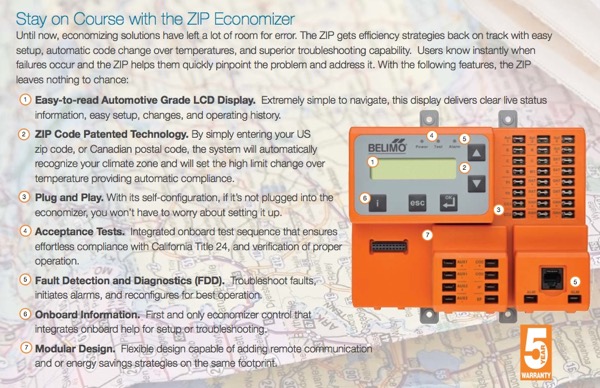 With the unit's plug-and-play design, you only have to worry about setting up the features you want.  For example: the module, on it's own, will work perfectly with just the Econ-Zip-10K temperature sensors installed.  However, if you want the Econ-Zip to control by calculated enthalpy, simply install the Econ-Zip-TH sensors, which measure temperature and humidity. The Econ-Zip recognizes the sensors and self-configures to control by enthalpy.  But wait!  Need a CO2 input?  The Econ-Zip-EM Energy Module provides additional I/Os to offer demand-controlled ventilation.  Any of Kele's CO2 sensors can be used as long as there's a 0-10 VDC output.
Belimo has included a manual mode, which can be used during commissioning or troubleshooting.  All components can be tested in the manual mode except for the thermostat.  The manual mode includes an economizer test, used to verity RTU integrated economizer operation.  The ventilation test allows adjustment to the damper minimum position for verification of ventilation rates.  The RTU test is used to test the signals from the thermostat to the RTU.  The DCV test is used for testing the CO2 input and setpoint.
In my opinion, Belimo did their homework, sharpened their pencils, listened to input from the field, and designed a really cool product that "makes it easy" to economize.  If it is as reliable as their valves and actuators, the Econ-Zip is sure to be a hit.  I can only say I wished I'd had this around during my field years.
Visit the Econ-Zip product page to learn more and to purchase. You can also check out this video.  The Econ-Zip as well as the full Belimo line of products can be found at Kele.  And don't forget Kele's technical support.  If you have questions on any of our products or questions on applications, please feel free to contact us.