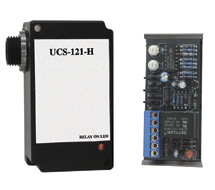 * product family image displayed
UCS-121-C | Kele | Transducers
SEQUENCER - 1 STAGE CALIBRATED
Manufacturer:
Kele
MPN:
UCS-121-C
SKU:
UCS-121-C
Availability:
809 In Stock
add to cart

product family specifications
24 VAC ±10%, half-wave; or 24 VDC ±10%
50 mA @ 24 VAC; 25 mA maximum @ 24 VDC
0.5-20 mA or 0.75-15 VDC, jumper selectable
250Ω (mA input); 10 kΩ (VDC input)
One SPDT relay, factory set at 12 mA, 9 VDC; adjustable via setpoint potentiometer
Factory set at 0.5 mA or 0.375V, adjustable 0.2-2V or 0.25-3 mA
30 seconds, jumper enabled
5% to 95% RH (non-condensing)
UCS-121 3.3"H x 1.5"W x 1.3"D (8.2 x 3.8 x 3.2 cm)
UCS-121-H 4.0"H x 2.3"W x 1.8"D (10.2 x 5.7 x 4.4 cm)
0.2 lb (0.09 kg) without enclosure; 0.3 lb (0.14 kg) with enclosure
product family features
One stage of relay control, SPDT
LED indication of relay status
Adjustable relay setpoint
Adjustable relay differential
Snap-track or hub enclosure
Jumper-enabled time constant
more information & related documents
The UCS-121 sequencer control module - two stage from Kele is a solid-state device used for multistage control in HVAC systems, sequencing boilers or chillers. The module also sequences floating/tri-state control of VAV boxes from a single analog signal for building automation systems, BAS. The UCS-121 can be used to obtain a digital output from a voltage or current producing sensor. Units may be daisy chained to provide additional stages of control, and a mounting track is supplied for easy installation.
SEQUENCER - 1 STAGE CALIBRATED