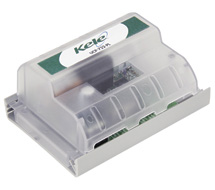 * product family image displayed
UCP-722-PL | Kele | Transducers
E/P V/I 3-15, 0-20 PSI, W/ALARM
Manufacturer:
Kele
MPN:
UCP-722-PL
SKU:
UCP-722-PL
add to cart

product family specifications
150 mA maximum (half-wave)
0-5 VDC, 0-10 VDC, or 4-20 mA
10 kΩ, VDC input; 250 Ω, 4-20 mA input
0-20 psig (0-140 kPa) or 3-15 psig (21-103 kPa)
333 scim (5456 cm3/min) @ 20 psig (138 kPa) supply; 523 scim (8570 cm3/min) @ 45 psig (310 kPa) supply
Brass barbs for 1/4" OD tubing
10 to 90% RH (non-condensing)
3.5"H x 3.3"W x 1.9"D (8.5 x 8.3 x 4.6 cm)
product family features
Jumper-selectable control range (0-20 psig or 3-15 psig)
Field-selectable inputs ( 0-5 VDC, 0-10 VDC, 4-20 mA)
LCD display for local indication of readings
No air consumption and quiet operation
Easy mounting with snap track housing
Optional pressure loss alarm
more information & related documents
The Kele UCP-722 Series microcontroller based electro-pneumatic transducer incorporates high performance poppet valve technology and low power coils with digital control to provide unmatched accuracy and proven reliability. In addition to providing reliable, stable operation, the poppet valves used in the UCP-722 consume no air. The UCP-722 features jumper-selectable pressure ranges and an LCD display. Field selectable analog inputs for 0-5V, 0-10V, or 4-20mA signals are standard.
E/P V/I 3-15, 0-20 PSI, W/ALARM
UCP-722 Installation Guide