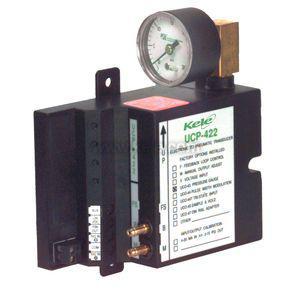 UCP-422-V2-43 | Kele | Transducers
V/Psi Xducer W/Psi Ind. (2-10)
Manufacturer:
Kele
MPN:
UCP-422-V2-43
SKU:
UCP-422-V2-43
Availability:
Usually Ships in Less Than 12 Business Days
add to cart

product specifications
V/Psi Xducer W/Psi Ind. (2-10)
V/PSI XDUCER W/PSI IND. (2-10)
more information & related documents
The UCP-422 Series feedback loop control F Option outputs a current sourcing 4-20 mA signal representative of the branch output pressure. The standard range is 4-20 mA to 3-15 psig (20.7-103.4 kPa). The F Option also allows for custom ranging the output (i.e., 4-20 mA to 8-13 psig). Any range from 3-15 psig (with a minimum 5 psig span) can be field-calibrated. This option requires 24 volt AC/DC power. The voltage input V Option allows the UCP-422 to be controlled by any voltage signal with a 5:1 ratio span. For example, the voltage signal span could be 1-5V, 2-10V, or 3-15V. This option requires 24 volt AC/DC power.
V/PSI XDUCER W/PSI IND. (2-10)