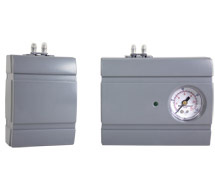 CP-8552 | Greystone Energy Systems | Transducers
4-20MA CURRENT/6 TO 9VDC/0 TO 10VDC XDUCER
Manufacturer:
Greystone Energy Systems
MPN:
CP-8552
SKU:
CP-8552
add to cart

product family specifications
CP-8551 None, 4-20 mA loop powered
CP-8552, -8511 20 to 30 VAC, 50/60 Hz or 24 to 30 VDC
CP-8552 4-20 mA, 0-10 VDC, 6-9 VDC, jumper selectable
CP-8511 4-20 mA, 1-5 mA, 6-9 VDC, 1-5 VDC, 0-10 VDC, 1-11 VDC, 2-10 VDC, jumper selectable
CP-8552 550Ω (current input); >10 kΩ (voltage input)
CP-8511 250Ω @ 4-20 mA; 1000Ω @ 1-5 mA; >10 kΩ for voltage inputs
20 VDC auxiliary output (CP-8511 only), 50 mA maximum
Screw terminals for 16 to 22 AWG wire
CP-8551, -8552 Direct acting
CP-8511 Direct or reverse acting, jumper selectable
Barbed fittings for 1/4" OD tubing
0.012 scfm (5.66 ml/s) @ 20 psig (138 kPa) supply
30 psig (207 kPa) maximum
Clean, dry air; 20 psig nominal supply pressure
0.75% of span @ 75℉ (24℃)
CP-8552 Adjustable start point and span potentiometers for voltage input
CP-8511 Field adjustable zero potentiometer
Auto/manual switch enables output override using a manual output potentiometer, LED goes off when in Manual mode (CP-8511 only)
Auto/manual feedback provided by isolated open collector output transistor (OC, OE) (CP-8511 only)
5 to 95% RH, non-condensing
CP-8551, -8552 4.6"H x 2.8"W x 2.6"D (11.8 x 7.1 x 6.8 cm)
CP-8511 4.6"H x 5.0"W x 2.6"D (11.8 x 12.7 x 6.8 cm)
CP-8551, -8552 0.4 lb (0.2 kg)
UL File #E9429; CSA, C22.2 No. 24-93; CE, EMC Directive 89/336/EEC, low voltage directive 72/23/EEC
product family features
Panel or DIN-rail mount for quick snap-on installation
High accuracy and low hysteresis for precise control
Long-term, driftless operation with high repeatability for long life and high performance
Low air consumption to save energy
High airflow capacity to handle large pneumatic components and long tubing runs
Models with field-selectable inputs
Integral 20 VDC auxiliary power supply, pressure gauge and manual override on CP-8511
more information & related documents
The CP-8500 Series electronic/pneumatic transducers handle a wide variety of pneumatic valve and damper applications that require a 3-15 psig control signal from an electronic controller output. The CP-8551 electro pneumatic transducer is a basic two-wire loop-powered unit with 4-20 mA input. The CP-8552 transducer is a 3-wire unit with a jumper-selectable input for 4-20 mA, 6-9 VDC or 0-10 VDC. The CP-8511 pneumatic transducers have a variety of jumper-selectable inputs, a pressure gauge, manual override, and 20 VDC power output for auxiliary components.
4-20MA CURRENT/6 TO 9VDC/0 TO 10VDC XDUCER