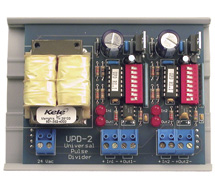 * product family image displayed
UPD-2 | Kele | Transducers
UNVRSL.PULSE DIVIDER 2 CHANNEL
Manufacturer:
Kele
MPN:
UPD-2
SKU:
UPD-2
Availability:
Usually Ships in Less Than 13 Business Days
add to cart

product family specifications
Mechanical switch contact or open-collector transistor
Factory set scale 10:1; DIP switch adjustable range 1:1 to 255:1
Contact minimum open or close time 10 ms, maximum frequency 50 Hz
30 VDC, 6 mA maximum contact rating (observe polarity)
0% to 95% RH (non-condensing)
UPD-2 3.3"H x 4.1"W x 1.0"D (8.3 x 10.5 x 2.5 cm)
UPD-4 3.3"H x 8.3"W x 1.0"D (8.3 x 21.0 x 2.5 cm)
product family features
Optically-isolated signals
User-adjustable pulse divider ratio
Operates with mechanical switch or open-collector transistor devices
more information & related documents
The UPD Series universal pulse divider accepts pulse signals from devices such as electric meters and flow sensors, rescales these pulses, and provides an isolated pulse output. This allows the receiving devices to monitor higher frequencies than they are able to accept directly. The UPD-2 provides two separate channels and the UPD-4 provides four channels. The output pulse signal is optically isolated from the input signal and each channel is isolated from the others. The pulse dividers are proven performers in building automation applications.
UNVRSL.PULSE DIVIDER 2 CHANNEL