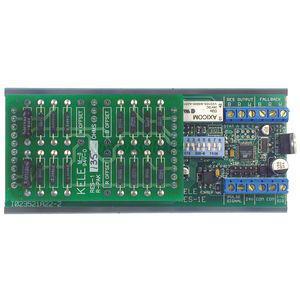 RES-1E-1000 | Kele | Transducers
1000 Ohm Resistance Output Transducer
Manufacturer:
Kele
MPN:
RES-1E-1000
SKU:
RES-1E-1000
add to cart

product specifications
1000 Ohm Resistance Output Transducer
1000 OHM RESISTANCE OUTPUT TRANSDUCER
product family features
Ideal for controlling electric actuators
Replaces potentiometer or temperature sensor in boiler/chiller reset circuits
0-20 mA, 4-20 mA, 0-5V, 1-5V, 0-10V, 2-10V, 0-15V, 3-15 VDC or PWM input signals, DIP switch selectable
Replaces motorized slide-wire potentiometer controller
0-135Ω, 0-270Ω, 0-500Ω, and 0-1000Ω standard outputs, custom ranges available
Failsafe mode and signal loss feature
more information & related documents
The Kele RES-1E Series universal resistance transducer provides a precision resistance output for DDC control of electric actuators or other electronic devices that operate from a variable resistive circuit. Various selectable analog and pulse-width modulated (PWM) inputs are available, and the transducer may be powered from 24 VAC or 24 VDC. The RES-1E is furnished with snap-track for easy mounting.
1000 OHM RESISTANCE OUTPUT TRANSDUCER