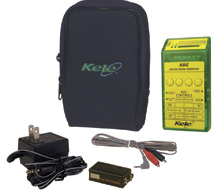 * product family image displayed
ASG | Kele | Tools & Test Equipment
ANALOG SIG. GENERATOR W/CASE
Manufacturer:
Kele
MPN:
ASG
SKU:
ASG
Availability:
340 In Stock
add to cart

product family specifications
9V battery or 120 VAC plug-in power supply
0-20 mA (2 mA increments)
0-10 VDC (1 VDC increments)
2-20 minute (2-minute increments)
2-20 second (2-second increments)
6' (1.83m) wire leads, carrying case
32° to 122°F (0° to 50°C)
0.66 lb (0.29 Kg) with accessories
product family features
Powered by 9V battery or plug-in power supply
Pocket size with carrying case
Bar graph LED for signal display
0-20 mA (2 mA increments)
0-10 VDC (1 VDC increments)
Ramp function to minimum and maximum values
Variable ramp function timing
User-defined auto shutoff times for battery conservation
Separate milliamp and voltage output jacks
6' (1.83m) leads with alligator clips
Perfect for loop-powered circuits and externally powered circuits
more information & related documents
The Kele ASG analog signal generator is a handheld, battery-powered or plug-in powered, pocket-size analog signal generator. The signal generator creates a 0-10 volt DC signal in increments of 1 volt or a 0-20 mA signal in increments of 2 mA. The LED bar graph visually indicates analog signal level. The ASG can also continuously ramp to user-defined minimum or maximum values with user-defined ramp-time settings.
ANALOG SIG. GENERATOR W/CASE
ASG Datasheet