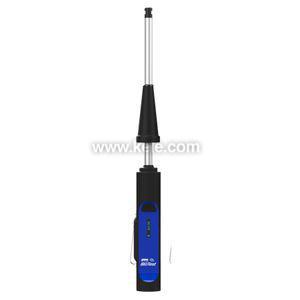 BA/BT-TH | BAPI | Tools & Test Equipment
Blü-Test Temp/Humidity Probe, 8" length, 3/8" diameter (20.3 cm x .95 cm)
Manufacturer:
BAPI
MPN:
BA/BT-TH
SKU:
BA/BT-TH
availability:Usually Ships in Less Than 9 Business Days
add to cart

product specifications
Blü-Test Temp/Humidity Probe, 8" length, 3/8" diameter (20.3 cm x .95 cm)
BLÜ-TEST TEMP/HUMIDITY PROBE, 8" LENGTH, 3/8" DIAMETER (20.3 CM X .95 CM)
product family features
Handheld Bluetooth probes with local OLED display

Connect up to six probes at once

Temperature, humidity, and differential pressure units

Communicates with Android or iOS Smart Phone or tablet automatically
more information & related documents
The BAPI's Blü-Test is a suite of handheld testing probes that interface via Bluetooth Low Energy (BLE) to the user's enabled Android or iOS smart phone or tablet. Each probe comes with a National Institute of Standards and Technology (NIST) traceable certificate of calibration. The Blü-Test is simple to use. Just start up the app on your smartphone or tablet and touch-select the probe to sync Bluetooth communication. Multiple points can be logged, graphed, or emailed. The logs are saved on the probe, and the app, and can be emailed for easy insertion into commissioning reports. Measurements are also shown on the handheld probe's local OLED display for convenience. The Blü-Test can take readings and store the data in its internal memory when the smartphone or tablet is out of range. The data is then uploaded to the app when the phone or tablet is back in range.
BLU-TEST TEMP/HUMIDITY PROBE, 8" LENGTH