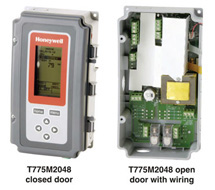 * product family image displayed
T775U2016 | Honeywell | Thermostats & Controllers
UNIVERSAL INPUT, 2 PROP AND 2 SPDT OUTPUTS
Manufacturer:
Honeywell
MPN:
T775U2016
SKU:
T775U2016
Availability:
Usually Ships in Less Than 10 Business Days
add to cart

product family specifications
24 @ 10 VA, 120, or 240 VAC, 50/60 Hz
Backlit digital 2.5" x 1.5",
6-key, menu-driven, with simple programming lock
Program is non-volatile; time is retained for 24 hours
12 hour (AM/PM) for night setback/shutdown, daylight savings time enable/disable
7-day, two events per day
Model specific (see I/O configuration table)
Temperature -40° to 248°F (-40° to 120°C)
Pressure (T775U) -500 to 500 psi, -30 to 30 inches W.C., -3000 to 3000 Pa or kPa
Model-specific (see I/O configuration table)
Temperature RTD 1.1 k at 77°F, PTC, 2.1 /°F, Platinum 1 kΩ at 32°F, 385 curve
Digital input Dry contact, all models (Used for system shutdown or night setback)
Analog (T775U) 0-10 VDC, 4-20 mA
Universal offset ±10% of scale
Model-specific (see I/O configuration table)
Relays/tri-state 10A at 24 VAC (resistive), 1/2 hp at 120 VAC
Modulating 0 or 2-10 VDC, 2 kΩ minimum impedance
4-20 mA, 600Ω maximum impedance
Included in all T775-A,B,L,M,P,R versions
Probe (50021579-001) 8" leads
Range -60°F to 270°F (-51° to 132°C)
Model-specific (see I/O configuration table)
Relay on/off Differential control, adjustable ±1° to ±150°F
Modulating PI or PID, with adjustable tuning
Throttling range ±1° to ±150°F
Derivative and integral times 0 to 3600 seconds
Multiple loops depending on model
Terminal blocks separated by function
Plenum rated plastic, UL94V NEMA 1, NEMA 4X versions Hinged cover with LCD window Five (1/2") knockouts on four sides
Surface screw tabs or DIN rail
-40° to 140°F (-40° to 60°C)
5% to 95% RH (non-condensing)
(20.7 x 12.5 x 7.4 cm) Door opens out 4" (10.2 cm)
UL Ffile #E4436, CE, C-tick, FCC
product family features
Multiple power input (24, 120, or 240 VAC)
Single- or dual-loop models
Throttling range, PI and PID tunable modulating models
Adjustable differential two-position models
Humidity, pressure, and universal input models
Two-position 10A relay model
Analog output 0 or 2 to 10 VDC, 4-20 mA, and 135Ω models
Integral seven-day time clock for night setback or shutdown
Remote night setback or shutdown input
℉ or ℃ temperature display RH, PSI, In W.C. on W Models
Daylight savings time compensation
more information & related documents
The Model T775 single- or multi-loop standalone controller is a standalone multi-point and multi-loop controller designed for a wide range of applications. The I/O point mix is unit-specific with temperature, humidity, and pressure input models available. Relay or analog output models may be selected as well. Single-loop, two-loop, and reset controllers may be selected, all including a seven-day time clock for output disable or night setback. The relay output controllers have adjustable differential control algorithms. Analog output controllers have adjustable throttling range; proportional plus integral (PI); or proportional, integral, and derivative (PID) control. The backlit display is easy to read, and the menu-driven setup is simple. The T775 is available in NEMA 1 or NEMA 4X enclosures for the most demanding environments.
UNIVERSAL INPUT, 2 PROP AND 2 SPDT OUTPUTS