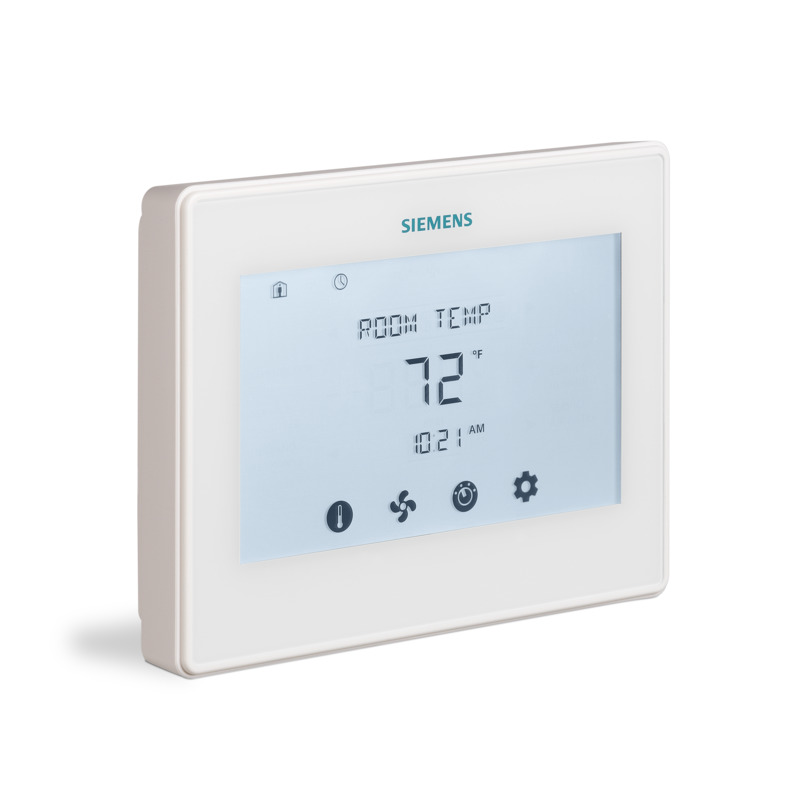 RDY2000 | Siemens Industry | Thermostats & Controllers
Stand-alone (non-communicating) 24VAC programmable commercial room thermostat. Use on conventional systems with up to 3 stages of heating and/or cooling or heat pumps with up to 2 compressors and 1 or 2 stages of auxiliary heat. - Conventional systems: 3H/3C - Heat pumps: 4H/2C - On-board temperature & humidity sensors - Capacitive touch screen - 4 configurable inputs - 3 configurable relay outputs - Humidity control - Economizer enable - Air quality management - UL/cUL listed
Manufacturer:
Siemens Industry
MPN:
RDY2000
SKU:
RDY2000
add to cart

product specifications
Stand-alone (non-communicating) 24VAC programmable commercial room thermostat. Use on conventional systems with up to 3 stages of heating and/or cooling or heat pumps with up to 2 compressors and 1 or 2 stages of auxiliary heat. - Conventional systems: 3H/3C - Heat pumps: 4H/2C - On-board temperature & humidity sensors - Capacitive touch screen - 4 configurable inputs - 3 configurable relay outputs - Humidity control - Economizer enable - Air quality management - UL/cUL listed
product family features
Compatible with conventional and heat pump applications
Controls conventional systems with up to three stages of heating and three stages of cooling
On-board temperature and humidity sensors
Set-up Wizard enables rapid system configuration
Remote Sensors (Occ, CO2, RH, Temp, Doorswitch)
BACnet MS/TP version available (RDY2000BN)
Programmable, 7 day, 4 periods/day
CO2 sensor input to start fan and ventilation
Password protected installer set-up menu deters unauthorized changes
Selectable lockout levels to minimize tampering with set points and schedule
Sleek design with backlit 5″ LCD touch screen
more information & related documents
The Siemens Series RDY2000 Commercial Room Thermostat is designed for light commercial HVAC systems that utilize 24 VAC control circuitry. It is compatible with forced air, hydronic, or steam systems fired by gas, oil, or electricity. The thermostat can control up to three stages of heating and three stages of cooling in a conventional system and heat pumps systems with up to two compressors and two stages of auxiliary heat. The RDY2000 can interface with remote sensors and devices to completely manage all aspects of room comfort, including temperature, humidity, and air quality. The RDY2000BN is BACnet MS/TP compatible for communication with other network devices.
TSTAT/PROG/3H-3C/24V/HP OR STD