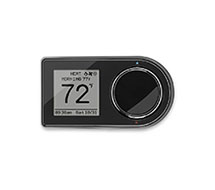 * product family image displayed
GEO-WH-003 | Johnson Controls | Thermostats & Controllers
T-STAT/GEO PRO EDITION WHITE,2HEAT/2COOL,AUTO C/O,
Manufacturer:
Johnson Controls
MPN:
GEO-WH-003
SKU:
GEO-WH-003
Availability:
Lead time > 15 days. See alternatives below or chat with Sales.
add to cart

product family specifications
(Horizontal Orientation) Height: 3.12" (79mm), Width: 5.7" (145mm) Depth: 1.32" (33mm)
RH, RC, B, W1, O, Y1, G, W2, C, Y2
1.5 Amps per terminal @ 24Volts
Control Range: 45°F to 90°F (7°C to 32°C)
Display Range: 32°F to 99°F (0°C to 37°C)
Adjustable from ±0.25°F to 2.25°F
±1°F over range of 45°F to 90°F
+14°F to 122°F (+10°C to 50°C)
+40°F to 140°F (+20°C to 60°C)
20% to 90% non-condensing
2.4GHz: 802.11 b/g/n; SHA256RSA data encryption; Network commissioning through iOS/Android app; Program and system settings stored on the device or WPS for set up and function – with or without WiFi
Universal compatibility for conventional heat & A/C up to 2h/2c and heat pump systems with up to 2h/1c including AUX/EMERG heat. Hydronic systems of 2-wire heat only – (hot water baseboard & radiator) and gas millivolt heaters.
120V/240V line voltage systems
product family features
Geofencing: Home & Away Aware™
Smart Scheduling: Utility cost estimated
Smart tips: For savings & seasonality tips
IAQ Fan: works with LUX airSMART IAQ
Reporting: Energy & run time usage
Apps: iOS & Android
Includes wall plate
Works with Amazon Alexa enabled devices and Google Assistant with C-wire or LUX Power Bridge
more information & related documents
The LUX GEO Series is a geo-fencing, Wi-Fi-programmable thermostat for conventional, hydronic, and heat pump systems. The GEO-xx thermostats work with conventional 2H/2C HVAC systems, 2-wire heat-only radiator or hot water baseboard units, and heat pump systems with 2H/1C with auxiliary/emergency heat. They come in a white or black version and provide 7-day programmable options. Power options include standard 24V with a common wire, 2 AA lithium batteries, or the USB micro-port (wall adapter and cord not included). LUX GEO thermostats can be mounted vertically or horizontally.
T-STAT/GEO PRO EDITION WHITE,2HEAT/2COOL,AUTO C/O,