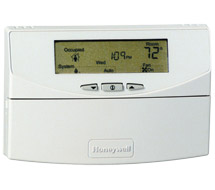 * product family image displayed
T7350A1004 | Honeywell | Thermostats & Controllers
1H/1C STD OR 2H/1C HP STAT
Manufacturer:
Honeywell
MPN:
T7350A1004
SKU:
T7350A1004
product family specifications
Supply Voltage:
20 to 30 Vac @ 5 VA, 50/60 Hz, W7350: 100 to 240 Vac, 47 to 63 Hz, 0.5A
Conttact Rating:
Running: 1.5A maximum. Inrush: 7.5A maximum.
Setpoint Range:
Heating: 40'Ñâ to 90'Ñâ (4'ÑÉto 32'ÑÉ). Cooling: 45'Ñâ to 99'Ñâ (7'ÑÉ to 37'ÑÉ). Deadband: 'Ñâ (1'ÑÉ).
Additional Specifications:
Finish (color): Trident White.
Battery:
No batteries required
Battery Backup:
W7350: 5 minutes typical; shutdown begins within 10 seconds
Clock Accuracy:
±1 min./month (30 days).
Communication Interface:
W7350: Ethernet: Two ports; One unused; 10/100 Mbps; RJ-45 connectors, Communication Card: 78 Kbps FTT10 A LONÆ Adapter and LonWorksÆ communication driver, Unused: two communication ports (RS-485 and RS-232)
Electrical Life:
W7350: NPB-WPM-US wall plug power supply, Class-A device
Input:
Temperature: 20K ohms. Humidity: 0-10 Vdc. Outdoor: 3000 PTC. Discharge Air: 20K ohms. Occupancy Sensor: Dry contact switching 30 Vdc at 1 mA.
Memory:
W7350: 64 MB SDRAM and Serial Flash
Modulation:
4 to 20 mA with 510 ohm maximum terminating resistance.
Operate Time:
Minimum On Heat: 1 minutes. Cool: 3 minutes. Minimum Off (Cool and Heat Pump): 1 minute.
Conttact Rating:
Running: 1.5A maximum. Inrush: 7.5A maximum.
Throttling Range:
Automatically adjusts based on heat/cool stages. Manually adjustable with TStatSpec software or PDA.
Operating Temperature:
30'Ñâ to 110'Ñâ (-1'ÑÉ to 43'ÑÉ)., W7350: 32 to 122 'Ñâ (0 to 50 'ÑÉ)
Operating Humidity:
5% to 90% RH, noncondensing., W7350: 5% to 95% RH, Non-condensing
Mounting:
Mounts on subbase., W7350: DIN rail or screw
Enclosure Rating :
W7350: Plastic chasis and cover
Dimensions:
See Fig 1, W7350: 6.3″(160mm) Width x 4.8″ (122mm) Height (including connectors) x 2.4″ (61mm) Depth
Weight:
1.24 lb. (0.57 Kg)
Approvals:
CE, NEC Class 2. FCC Part 15 subpart J Class A, RF Emissions FCC part 15, CE, Class A, C-tick
product family features
7-day programming with two Occupied and two Not Occupied periods per day,Individual heat and cool setpoints for Occupied and Not Occupied periods,Advanced configuration using TStatSpec software or PDA,PID control minimizes temperature fluctuations,Recovery ramp control automatically optimizes equipment start times based on building load,Keypad multi-level lockout available with all models,Remote sensor capability for temperature (including outdoor air and discharge air) and humidity sensors,T7350M provides 2 modulating heat and/or cool outputs,T7350H provides networking capability on LonWorks bus using Free Topology Transceiver (FTT),T7350H conforms to LonMark Space Comfort Profile for rooftop applications,W7350 web-based controller supports up to 20, T7350H thermostats
more information & related documents
The Honeywell T7350 Commercial Programmable Thermostat controls 24 VAC single zone heating, ventilating and air conditioning (HVAC) equipment. The T7350 consists of a thermostat and a subbase. The thermostat includes the keypad and display for 7-day programming and the subbase includes equipment control connections. T7350M models have 2 modulating outputs for heat and/or cool, and the T7350H models have LonWorks capability. The W7350 WebStat is a web-based building manager that allows contractors and facility managers to view and command T7350H Commercial Programmable Thermostats. It communicates over the LonWorks network to perform building management control of the T7350H thermostats through a web browser. It runs building management applications such as trending, scheduling and alarming. The WebStat Bundle (W7350A1000) includes the WebStat controller, a LON card, and a power supply.
1H/1C STD OR 2H/1C HP STAT