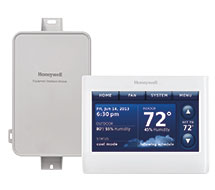 * product family image displayed
HVC20A1000 | Honeywell | Thermostats & Controllers
WIRELESS VENT AND FILTER BOOST REMOTE
Manufacturer:
Honeywell
MPN:
HVC20A1000
SKU:
HVC20A1000
Availability:
Usually Ships in Less Than 7 Business Days
add to cart

product family specifications
4 heat/2 cool heat pump and up to 3 heat/2 cool conventional
Temperature Onboard 20kΩ NTC
2 Universal inputs, temperature or dry contact selectable (not available with single- piece thermostat)
Standalone 6 (USB on some models)
EIM terminals W-O/B, Y, W3-Aux2, A-L/A Maximum Current 1.0A,
EIM terminals G, U1, U2, U3 Maximum Current 0.5A
EIM terminals W2-Aux1, Y2 Maximum Current 0.6A
Temperature Sensor Accuracy
± 1.5° at 70℉ (0.75° at 21℃)
Temperature Setting Range
Heating 40° to 90℉ (4.5° to 32℃)
Cooling 50° to 99℉ (10° to 37℃)
Thermostat 32° to 120℉ (0° to 48.9℃)
EIM -40° to 165℉ (-40° to 73.8℃)
Thermostat 5% to 90% condensing,
EIM 5% to 95% non-condensing
Prestige IAQ 4-1/2″W x 3-1/2″H x 7/8″D (11.5 x 8.9 x 2.2 cm)
Prestige 2.0 6-13/16″W x 3-7/8″H x 1-7/16″D (17.3 x 9.9 x 3.6 cm)
EIM 9.34″H X 4.83″W X 1.6″D (23.7 x 12.3 x 4.1 cm)
Building material and content dependent
This device complies with Part 15 of the FCC Rules. (15.19, 15.21, 15.105)
5 years (excludes batteries)
product family features
60% smaller than Prestige 2.0 and available in 4 colors
Delta T Alerts and Diagnostics inform customers when their system is not operating as expected
Residential or light commercial use
User Interaction Log provides a searchable history of setting changes
Assignable outputs for indoor air quality and staging control
Selectable staging options
Customizable service reminders
Up to 4H/2C heat pump or 3H/2C conventional systems
more information & related documents
The Prestige High Definition (HD) Color Touchscreen Thermostat provides control of 24 VAC of heating and cooling systems. RedLINK™ enabled to work with compatible wireless accessories. These newly updated thermostats come in a variety of colors and can be accessed via the internet or through the mobile app available from Honeywell. The new Prestige is on the leading edge of design and remote access when it comes to thermostats for both residential and light commercial applications. Check out the entire line for one that fits your application.
WIRELESS VENT AND FILTER BOOST REMOTE