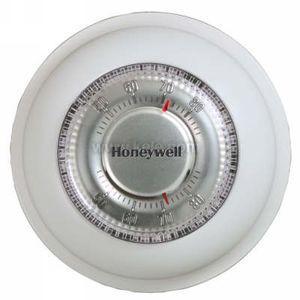 T87N1000/U | Resideo | Thermostats & Controllers
Thermostat, Round, Mercury Free, Manual
Manufacturer:
Resideo
MPN:
T87N1000/U
SKU:
T87N1000
Availability:
Usually Ships in Less Than 7 Business Days
product specifications
Thermostat, Round, Mercury Free, Manual
ROUND ANLG STAT 1H/1C (HP)SYS-H/O/C/FAN AUTO/ON
product family features
Mercury-free design,Traditional look for existing systems,Power-stealing design (T87, T8775),degrees F or degrees C selectable (digital types only),Standard terminal designations
more information & related documents
The Honeywell T87, T8775 Series is the latest design of the most recognized thermostat in the world. The T87 is an analog- or digital-display thermostat made for typical residential use on heating and cooling systems with either conventional heat or heat pump. Kele is the leading supplier of building automation products. When you need the right product, right now, count on Kele.
ROUND ANLG STAT 1H/1C (HP)SYS-H/O/C/FAN AUTO/ON