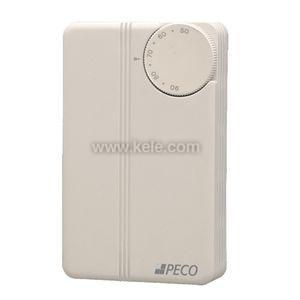 68428 | Peco | Thermostats & Controllers
PECO 0-10 VDC Controller
Manufacturer:
Peco
MPN:
68428
SKU:
TA167-006
Availability:
Usually Ships in Less Than 11 Business Days
product specifications
24V, 0-10VDC H AND C, NO FAN OR NO SYSTEM
product family features
Electronic design performance,Two-position and Proportional models,Remote sensor capability,Fan and system switching models,degrees F scale standard,degrees C or warmer/cooler dials available,Setpoint stops available
more information & related documents
The T155 Series Line and Low Voltage Two-Position Thermostat is a general purpose, electronic, two-position line-voltage and low-voltage thermostat. The T167 Series Proportional Thermostat is a 0 to 10 volt DC proportional heating/cooling low voltage thermostat. Both are designed for a variety of two- and four-pipe, heating and cooling HVAC applications and for Building Automation Systems, BAS. Both manual and automatic changeover models include a provision for a remote thermistor temperature sensor.
24V, 0-10VDC H AND C, NO FAN OR NO SYSTEM