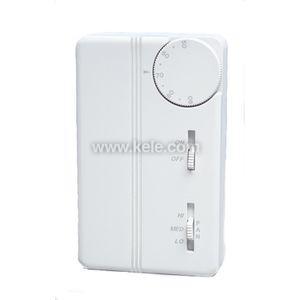 65621 | Peco | Thermostats & Controllers
Heat/Cool Thermostat, 3 Speed
Manufacturer:
Peco
MPN:
65621
SKU:
TA155-017
Availability:
143 In Stock
add to cart

product specifications
Heat/Cool Thermostat, 3 Speed
ELE.STAT. ON/OFF SYS. &H/M/L/HOR-VER COVERS
product family features
Electronic design performance
Two-position and Proportional models
Fan and system switching models
℃ or warmer/cooler dials available
more information & related documents
The T155 Series Line and Low Voltage Two-Position Thermostat is a general purpose, electronic, two-position line-voltage and low-voltage thermostat. The T167 Series Proportional Thermostat is a 0 to 10 volt DC proportional heating/cooling low voltage thermostat. Both are designed for a variety of two- and four-pipe, heating and cooling HVAC applications and for Building Automation Systems, BAS. Both manual and automatic changeover models include a provision for a remote thermistor temperature sensor.
ELE.STAT. ON/OFF SYS. &H/M/L/HOR-VER COVERS