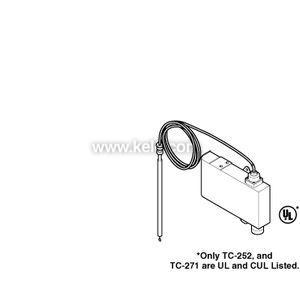 TC-282 | Schneider Electric Buildings | Thermostats & Controllers
Single Three-Stage Bulb Thermostat, Heating or Cooling, 10-90F, 6' Capillary
Manufacturer:
Schneider Electric Buildings
MPN:
TC-282
SKU:
TC-282
Availability:
Usually Ships in Less Than 8 Business Days
product specifications
Single Three-Stage Bulb Thermostat, Heating or Cooling, 10-90F, 6' Capillary
THERM 3 STAGE BULB STAT 10-90
product family features
Plates with set point or blank cover
Fits standard single-gang switch box
more information & related documents
The TC-1100 Series Two-Position Room Thermostats are two-position, single-pole, double-throw room thermostats for HVAC applications and Building Automation Systems, BAS. These room thermostats are designed for single-stage heating or single-stage cooling. The TC-1100 Series thermostat comes in three set point spans to cover most any application: 55° to 85℉, 45° to 75℉, and 75° to 105℉. The TC-1100 Series thermostat comes standard with thermometer and set point as shown. It is also packaged with cover plates for set point only or for blank cover.
THERM 3 STAGE BULB STAT 10-90
Schneider Electric Buildings

TC-1100 Series Installation Data