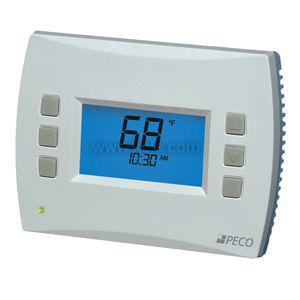 69921 | Peco | Thermostats & Controllers
PECO PerformancePRO Thermostat, Programmable, 2H/2C, 24 VAC or Batt Power
Manufacturer:
Peco
MPN:
69921
SKU:
T4522-001
Availability:
Usually Ships in Less Than 6 Business Days
product specifications
PECO PerformancePRO Thermostat, Programmable, 2H/2C, 24 VAC or Batt Power
T-STAT/PROG/2H/2C/24 VAC OR BATT POWER
product family features
7 day, 5-1-1, 5/2 day programmable, or non-programmable modes,Keypad lockout feature,Occupancy sensor input,365 Day programmable calendar,Holiday scheduling,Remote sensor input,Outdoor air sensor input for T8000 and T12000,SD Card programming option on T8000 and T12000,Blue backlit display,24 VAC or battery powered,Terminal block wiring connections
more information & related documents
Peco offers a wide range of programmable and non-programmable thermostats to meet your needs. The T4500 Series thermostats offer single or multistage heating and cooling. The T4900 Series offer up to 3 stages of heating and 2 cooling. Both series come with 24vac power or battery power options. The T8000 Series offer multistage heating and cooling with a large digital display. The T12000 Series can be used in single stage or multistage heating and cooling applications and it comes with a touchscreen display.
T-STAT/PROG/2H/2C/24 VAC OR BATT POWER