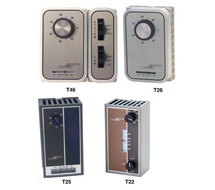 * product family image displayed
T46SAA-1 | Johnson Controls | Thermostats & Controllers
FANCOIL T'STAT W/FAN & SYS SWI
Manufacturer:
Johnson Controls
MPN:
T46SAA-1
SKU:
T46SAA-1
Availability:
Usually Ships in Less Than 9 Business Days
product family specifications
Setpoint range:
40° to 90°F (5° to 30°C)
Mounting:
Separate mounting plate
Sensing element:
Liquid filled for positive trouble-free operation (anticipator not required)
Thermometer:
50° to 90°F (10° to 30°C), bimetal type may be field calibrated
Mounting:
Separate mounting plate
Approvals:
UL File #E6688/XAPX
product family features
Knob or concealed set point adjustment,Line- or low-voltage control,UL listing,Mounts on standard single- or double-gang box,Bimetal thermometer,Ideal for fan coil applications
more information & related documents
These T22, T25, T26, T46 Line Voltage Thermostats are designed for line voltage control of residential, commercial, or industrial heating or year-round air conditioning in HVAC applications or Building Automation Systems, BAS. A liquid-charged temperature sensing element, highly efficient diaphragm, and lever provide precise temperature control. Anticipators are not required. The Model T26 line voltage thermostat is designed for heating or cooling and includes a horizontal mounting faceplate kit. The Model T25 is a two stage, line voltage thermostat. Applications include two stages of heating or cooling or auto changeover control of heating and cooling. The Model T22 is a line voltage thermostat with a system selector switch for off/auto or heat/off/cool operation. The Model T46 is a line voltage, heating, cooling or heating/cooling thermostat with integral system and fan switching. It is designed to control line voltage fan coils or zone valves.
FANCOIL T'STAT W/FAN & SYS SWI