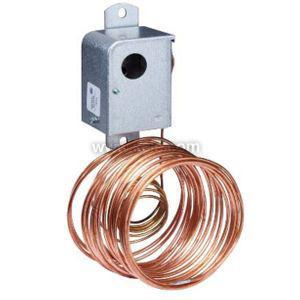 A11A-1C | Johnson Controls | Thermostats & Controllers
Low Temp Cutout Manual Reset
Manufacturer:
Johnson Controls
MPN:
A11A-1C
SKU:
A11A-1C
Availability:
39 In Stock
product specifications
Low Temp Cutout Manual Reset
LOW TEMP CUTOUT MANUAL RESET
product family features
Snap-acting contacts,External temperature scale,Easy set point adjustment,Unaffected by ambient temperature at the control and 4ft (1.2m) capillary
more information & related documents
The A11 Series Low Temperature Limit Controls incorporate a 20ft (6 m), vapor-charged sensing element for HVAC applications and Building Automation Systems, BAS. The low temperature sensor reacts to the coldest 16in (40.6 cm) section of the control's sensing element. It is suitable for monitoring the trailing face of a coil for freeze protection.
LOW TEMP CONTROL, MR, 35/45F, 20' OPENS LOW