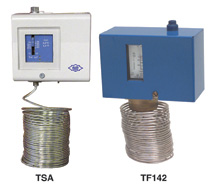 * product family image displayed
TF142-SODP20 | Dynacon | Thermostats & Controllers
LOW LIMIT, MANUAL RESET, 20FT CAP, DPDT
Manufacturer:
Dynacon
MPN:
TF142-SODP20
SKU:
TF142-SODP20
availability:
57 In Stock
add to cart

product family specifications
product family features
Manual and automatic reset models
Easy set point adjustment
more information & related documents
The Model TSA and Model TF142 Low Limit Temperature Controllers provide low-limit temperature control in operating dampers, valves, compressors, or fan motors in HVAC systems and Building Automation Systems, BAS. Manual and automatic reset model temp controllers are available with SPDT or DPDT switching action. Models TSA and TF142 respond to the lowest temperature sensed along any 1' (0.3m) section of the capillary element.
LOW LIMIT, MANUAL RESET, 20FT CAP, DPDT