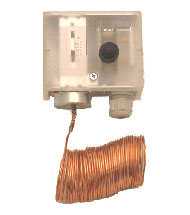 * product family image displayed
A/FS-2A | ACI | Thermostats & Controllers
T-STAT/FREEZE/AUTO/20FTCAP/2SPDT
Manufacturer:
ACI
MPN:
A/FS-2A
SKU:
A/FS-2A
add to cart

product family specifications
Vapor-filled, copper capillary tube
14° to 54℉ (-10° to 12℃) field adjustable
1.8℉ (1.0℃), fixed for auto reset
35.6℉ (2.0℃) factory set, field adjustable
14° to 194℉ (-10° to 65℃)
3.4″H x 4.25″W x 2.1″D (8.6 x 10.8 x 5.3 cm)
product family features
Available with 6, 10, and 20 foot length capillaries
Manual reset and automatic reset versions
more information & related documents
The FS Series controllers are low limit controllers, also known as ″Freeze Stats.″ The devices were designed for use on HVAC equipment that requires low-temperature cutout protection to prevent cooling coils from freezing. They should be mounted between the heating and cooling coils on the supply side of the fan unit. They respond to the lowest temperature sensed along any 1 foot section of the sensing element. The FS Series has manual and automatic reset versions, as well as, models that feature one or two sets of SPDT contacts.
T-STAT/FREEZE/AUTO/20FTCAP/2SPDT