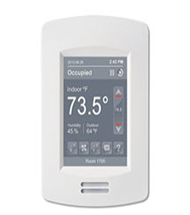 * product family image displayed
VT8650U5000B | Schneider Electric Buildings | Thermostats & Controllers
STAGED BACNET THERMOSTAT W/HUMIDITY
Manufacturer:
Schneider Electric Buildings
MPN:
VT8650U5000B
SKU:
VT8650U5000B
Availability:
349 In Stock
add to cart

product family specifications
20-30 VAC @ 6 VA, 50/60 Hz
Seven-day programmable, non-programmable models
OSA lockout (emer heating/comp. heating)
1H/1C, 2H/2C, (3H/2C heat pump) 2H/2C + proportional mixed-air economizer
Smart-on/occupied, off/unoccupied
±0.9°F, (±0.5°C) @ 70°F (21°C)
Heating 40° to 90°F (4.5° to 32°C)
Cooling 54° to 100°F (12° to 37.5°C)
Individually adjustable, H/C
Room Sensor Room Sensor input auto-detected 10K Type 2 thermistors
Outside Air Outside air input auto-detected 10K Type 2 thermistors
Mixed Air Mixed air input auto-detected (economizer model only) 10K Type 2 thermistors
Two dry contact digital inputs
Four Types Service/status reminders
Central night setback clock
Remote occupied override timer
1A relays 30 VAC, 3A surge maximum
Proportional 0-10V DC, 2 kΩ minimum
Proportional plus integral
Heating 15° to 120°F (26° to 49°C), 5°F increments
Cooling -40° to 95°F (-40° to 35°C), 5°F increments
Enable/disable, heating @ 47°F (5.5°C)
Three levels (full, none, partial)
Adjustable, heating 3-8 CPH, cooling 3-4 CPH
Adjustable ±5°F (2.5°C), 1°F increments
18 AWG to 22 AWG, Power: 24 AWG min. communication
32° to 122°F (0° to 50°C)
0% to 75% RH (non-condensing)
or Silver (optional fascias)
Standard vertical 2" x 4" box
NEMA 1, ULFR1 flame-retardant plastic
UL, File #E234137, CE, RoHs, BACnet
product family features
Fan switching (on/auto/smart)
System switching (O/A/C/H)
Backlit LCD touchscreen Display
Remote and OSA sensors (optional)
Permanent program retention
Proportional + Integral control
Mixed-air (0-10V) control outputs
Economizer changeover S.P.
OSA damper min. position in %
Two or four configurable events/day
Progressive recovery or none
Occ/Unocc auxiliary contact out
Zigbee Pro/Wireless communication module (optional)
Configurable economizer, scheduler, sequence of operations
more information & related documents
The Viconics VT8650 Series are programmable and application specific room controllers with customizable screen colors. The VT8650 room controller is a rooftop, heat pump, and indoor air quality controller suitable for commercial and high end hospitality markets. The room controllers dramatically decrease project delivery costs by reducing installation, configuration and commissioning time. No complex software or tools are required to customize functionality to meet your applications requirements. The room controllers provide all the advanced features and monitoring functions required by modern building automation systems in a simple compact enclosure. For more advanced needs, custom LUA script programming available. (-LS models) Kele is the leading supplier of building automation products. When you need the right product, right now, count on Kele.
STAGED BACNET THERMOSTAT W/HUMIDITY
Schneider Electric Buildings