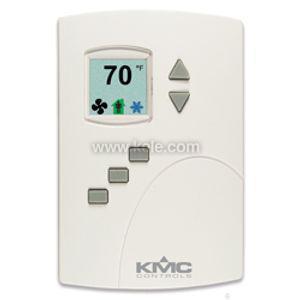 BAC-4001CW0002 | KMC Controls | Thermostats & Controllers
AppStat: RTU, 2H/2C, Fan Control, W/O Humidity Sensor or Motion Sensor
Manufacturer:
KMC Controls
MPN:
BAC-4001CW0002
SKU:
BAC-4001CW0002
Availability:
32 In Stock
add to cart

product specifications
AppStat: RTU, 2H/2C, Fan Control, W/O Humidity Sensor or Motion Sensor
product family features
Stand alone operation if needed
Two piece design for easy installation
Bright, full color display
Built-in temperature, humidity, and motion sensors (dependent on model)
Factory supplied programs for multiple applications
Network ready for BACnet MS/TP
more information & related documents
The KMC AppStat combines the power of a space-mounted equipment controller with the convenience of built-in temperature, humidity and motion sensors. The controllers include a wide range of factory supplied programs for two and four pipe fan coil units, roof top units, heat pump units, and packaged or split unitary systems. Stand alone operation means no special programming, software applications, or setup tools are required to configure and commission an AppStat. All options can be set by using only the five front panel buttons and the easy-to-read menus in the full color display. The attractive two-piece design is ideal for new installations or upgrades of older, less efficient thermostats. AppStat installation requires only mounting the backplate to a wall or electrical box, connecting wires to screw terminals, and plugging the AppStat into the backplate. The full color display is easy to read across a room even in bright sunlight. All models are native BACnet, Application Specific Controllers ready to connect to a BACnet MS/TP network.