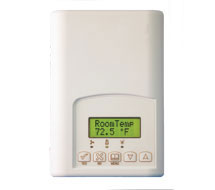 * product family image displayed
COV-BC-5031 | Schneider Electric Buildings | Thermostats & Controllers
BLIND COVER WITH NO LOGO
Manufacturer:
Schneider Electric Buildings
MPN:
COV-BC-5031
SKU:
COV-BC-5031
Availability:
Usually Ships in Less Than 12 Business Days
add to cart

product family specifications
±0.9°F (±0.5°C) @ 70°F (21°C)
Two dry contact digital inputs
Four Types Service/status reminders
Central night setback clock
Remote occupied override timer
1A relays 30 VAC, 3A surge maximum
1A relay 30 VAC, N.O./N.C. follows occupied schedule
Proportional 0-10V DC, 2 kΩ minimum (economizer model)
Five menu-driven push buttons – up, down, menu, no, yes/scroll
Seven-day programmable models, non-programmable models
Progressive recovery (enable/disable)
OSA lockout (emer heating/comp. heating)
(Dependent upon model) 1H/1C, 2H/2C, (3H/2C heat pump) 2H/2C + proportional mixed-air economizer
Six-hour power fail retention
Smart-on/occupied, off/unoccupied
Heating 40° to 90°F (4.5° to 32°C)
Cooling 54° to 100°F (12° to 37.5°C)
Individually adjustable, H/C
Room Sensor Room Sensor input auto-detected 10K Type 2 thermistors
Outside Air Outside air input auto-detected 10K Type 2 thermistors
Mixed Air Mixed air input auto-detected (economizer model only) 10K Type 2 thermistors
Proportional plus integral
Adjustable 2° to 4°F (1° to 2°C)
Heating 15° to 120°F (26° to 49°C), 5°F increments
Cooling -40° to 95°F (-40° to 35°C), 5°F increments
Enable/disable, heating @ 47°F (5.5°C)
Three levels (full, none, partial)
Adjustable, heating 3-8 CPH, cooling 3-4 CPH
Adjustable ±5°F (2.5°C), 1°F increments
Three green on (fan, cooling, heating)
18 AWG max, 22 AWG recommended
32° to 122°F (0° to 50°C)
0% to 95% RH (non-condensing)
Standard vertical 2" x 4" box
ULFR1 flame-retardant plastic
UL, cUL, File #E234137, CE
product family features
1H/1C, 2H/2C (3H/2C heat pump) models
Fan switching (on/auto/smart)
System switching (O/A/C/H)
Two line 8 digit backlit LCD Display
Three status LEDs (Fan, Clg, Htg)
Remote sensor and OSA sensor inputs
Permanent program retention
Two configurable DI inputs
Two line LCD display (°F or °C)
Proportional + Integral control
Mixed-air (0-10V) control outputs
Economizer changeover S.P. temperature
OSA damper minimum position in %
Two or four configurable events per day
Progressive recovery or none
Occ/Unocc auxiliary contact out
more information & related documents
The Viconics VT7600 Communicating Thermostats are digital display, single or multistage, seven-day programmable or nonprogrammable PI thermostats (°F or °C) for use with AHU controls and heat pumps for both heating and cooling applications. The VT7600 has both system and fan switching with internal sensor or remote sensor capabilities. Five buttons control a simplified menu for over 20 configurable parameters. A communication card is added for multiple protocols, including BACnet and LON. Other control features are listed below.
Schneider Electric Buildings
VT7600W Install Sheet
VT7682 Install Sheet
HP Engineering Guide Specifications
VT76x7 Install Sheet
VT7600 BAC Statement Document
VT76x7 LON Integration Guide
VT76x7 Technical Cut Sheet
VT76x7 RTU Engineering Guide Specification
VT76xx PIR Application Guide
VT76xx PIR BAC Integration Guide
VT76xxW Technical Sheet
VT7600 Install Sheet
VT7600 PIR Ready Technical Sheet
PIR Ready RTU Engineering Guide Specifications
RTU Engineering Guide Specifications
VT7600E Install Sheet
VT7600E Technical Sheet
VT7600F Install Sheet
VT7600F Technical Sheet