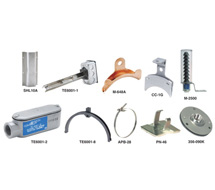 * product family image displayed
TE-6001-11 | Johnson Controls | Thermostats & Controllers
DUCT TEMP ELEMENT HOLDER
Manufacturer:
Johnson Controls
MPN:
TE-6001-11
SKU:
TE-6001-11
product family specifications
more information & related documents
The Models TE6001, CG-1G, M645K, 356-90K, M-2500, APB-28, and PN-46 Sensor Mounting Brackets are designed for mounting averaging, duct, and outside air probe instruments. Each sensor mounting bracket has a 1/4 in clip or guide to firmly hold a temperature sensor. Rely on these mounting brackets for secure sensor mounting in HVAC or BAS applications.