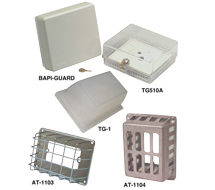 * product family image displayed
BB2001-005 | Johnson Controls | Thermostats & Controllers
T-STAT/SMALL LOCKING THERMOSTAT GUARD 6.75IN X 5.9
Manufacturer:
Johnson Controls
MPN:
BB2001-005
SKU:
BB2001-005
Availability:
Usually Ships in Less Than 15 Business Days
add to cart

product family specifications
product family features
TG500 Series Vented Guards
Patented, double-wall construction
Available in various sizes
Clear plastic or painted steel
Includes ring base, cover, lock and two keys
BAPI-Guard Series Vented GuardsClear low profile design
All mounting, hardware included
Key lock for vertical or horizontal mounting
Two sizes to fit most applications
ATK SeriesAvailable in wire and cast aluminum
Vertical and horizontal mounting
One piece U.V. stabilized high impact molded polycarbonate housing
Ring base is 16 gauge steel with white finish and four mounting holes
Stainless steel fasteners secure housing to base
Ventilation holes allow air to circulate freely
Clear plastic, opaque, or metal housings
18 gauge cover, 22 gauge frame on metal units
Beige enamel finish available on metal units
Combination tumbler lock with resettalbe code
Reduce your energy consumption
Control your overhead cost
more information & related documents
The ATK, A/LC, BA, TG, F29, TG500, SGP-2 Series Thermostat Guards are used to enclose and protect wall thermostats and sensors. As part of a HVAC application or Building Automation Systems, BAS, a thermostat guard can reduce or eliminate tampering or damage. A secure thermostat cover can also prevent unauthorized adjustment of thermostat settings.
T-STAT/SMALL LOCKING THERMOSTAT GUARD 6.75IN X 5.9