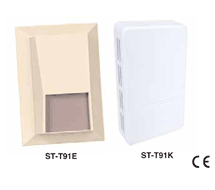 * product family image displayed
STT91EEMCXR11S | Kele | Temperature Sensors & Transmitters
WALL 1K OHM 375 TEMP 4-20MA 0/35C
Manufacturer:
Kele
MPN:
STT91EEMCXR11S
SKU:
STT91EEMCXR11S
Availability:
Usually Ships in Less Than 14 Business Days
product family specifications
4-20 mA @ 675Ω, two-wire, loop-powered
1000Ω thin film platinum TCR 0.00375Ω/Ω/℃
Sensor accuracy: ±0.2% of 1000Ω at 0℃
Transmitter accuracy: 0.1℉ or 0.2% of span
-30° to 250℉ (34° to 121℃) (Min span of 40℉ (22℃)) Standard: 40° to 90℉ (4° to 32℃)
-30° to 210℉ (-34.4° to 98.9℃)
-30° to 250℉ (-34.4° to 121.1℃)
0% to 95%, non-condensing
0.3 lb (0.14 Kg) either style ″E″ or ″K″
CE (EN50081-1, EN50082-1); Optional CE (EN50081-2, EN50082-2) Industrial RF/EM hardened
product family features
Loop calibration test signal
Loop power LED indication
CE approved (commercial and industrial)
more information & related documents
The Kele ST-T91 Rangeable Platinum Room Temperature Transmitter Series provides stable, accurate room sensing for temperature control and building automation systems, and it is CE approved for level-one applications. The attractive vented housing mounts easily and is constructed of a durable plastic with a tan enameled aluminum faceplate. The ST-T91E is the Executive style room transmitter and the ST-T91K is the Design style room transmitter. The ST-T91 Series has a loop-powered 4-20 mA output with a standard temperature range of 40° to 90°F (4° to 32°C), although other ranges can be field calibrated between -30° to 250°F (-34° to 121°C). To adjust the ST-T91 Series, set the DIP switches to match the desired range, and use the zero and span pots to fine tune. A high accuracy digital ohmmeter and decade box are required. The ST-T91 Series has a special 20 mA loop calibration test signal to provide easy system verification. Simply move the bottle plug jumper from norm to 20, and the transmitter will output a constant 20 mA. The loop up LED provides power indication for the 4-20 mA output.
WALL 1K OHM 375 TEMP 4-20MA 0/35C

Installation Sheet