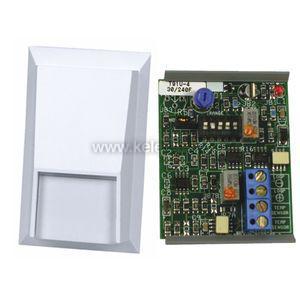 ST-T90E-2 | Kele | Temperature Sensors & Transmitters
Room Temperature Transmitter, 1K RTD 375, 4-20 mA Output, -20° to 140°F (-29° to 60°C) OSA, Duct, or Immersion
Manufacturer:
Kele
MPN:
ST-T90E-2
SKU:
ST-T90E-11
add to cart

product specifications
UR||DCP-1.5-W||DCPA-1.2||KT1||TCC-111||TCC-12
Room Temperature||Classroom Temperature||Office Temperature||Washdown Environment||Duct Temperature||Immersion Temperature||Outside Air Temperature||OSA
Room Temperature Transmitter, 1K RTD 375, 4-20 mA Output, -20° to 140°F (-29° to 60°C) OSA, Duct, or Immersion
TEMP XMTR, ROOM, 1K RTD 375, EXECUTIVE, NO SETPOINT, NO OVERRIDE, 4-20 MA
-20° to 140°F||-29° to 60°C
product family features
No drift platinum RTD sensors
Panel mounting for duct, immersion, OSA, and room
UL 94V-0 plenum rated housing
more information & related documents
The Kele Model ST-T90 Series is a fixed range 1000Ω, 375 platinum room temperature transmitter that provides stable, accurate room sensing for temperature control of Building Automation Systems. The attractive white vented housing mounts easily and is constructed of durable plenum rated plastic with a white enameled aluminum faceplate. The ST-T910E is the Executive style room transmitter amd the ST-T90K is the Design style room transmitter.
WALL 1K OHM 375 TEMP 4-20MA 0/35C