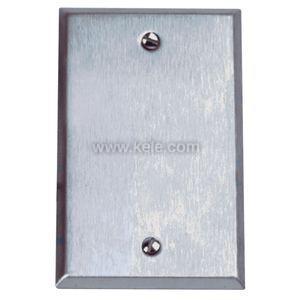 ST-S24 | Kele | Temperature Sensors & Transmitters
Wall Stainless Steel Plate Sensor 10K Ohm 2 Thermistor
Manufacturer:
Kele
MPN:
ST-S24
SKU:
ST-S24
Availability:
166 In Stock
add to cart

product specifications
Wall Stainless Steel Plate Sensor 10K Ohm 2 Thermistor
WALL S/S PLATE SENSOR 10K OHM 2 THMS
product family features
±0.36℉ (0.2℃) thermistor accuracy
±0.27℉ (0.15℃) or 0.54℉ (0.30 RTD℃) RTD accuracy
Wide selection of thermistor and RTD curves
Insulated backing for room temperature response
Vandal-resistant flush mounting
Adaptable with many options
430 Stainless steel finish
Easy to mount to wall or back box
Standard size plate to cover mounting holes
more information & related documents
The Precon Model ST-S Stainless Steel Flush Mount Sensor from PreCon provides precise room temperature sensing for Building Automation Systems, BAS, and HVAC applications. The active sensing element is made of a highly stable precision thermistor material or Platinum RTD. This material is ruggedized to provide moisture/vapor resistance and is bonded to a 430 stainless steel plate. The back is insulated to reduce interior wall temperature influence. This sensor is intended for interior use only.
WALL S/S PLATE SENSOR 10K OHM 2 THMS