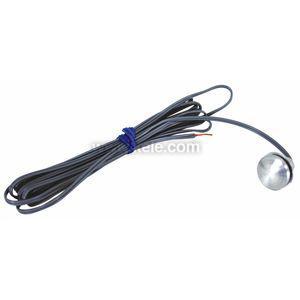 ST-B24S | Kele | Temperature Sensors & Transmitters
10,000Ω Button Style Thermistor @ 77°F (25°C), Type II (Gray Leads), Steel Housing
Manufacturer:
Kele
MPN:
ST-B24S
SKU:
ST-B24S
add to cart

product specifications
T81U-XR||T85U-XR||T91U-XR||UR||DCP-1.5-W||DCPA-1.2||TB-A||TS-B||TB-S
Room Temperature||Classroom Temperature||Office Temperature||Washdown Environment||Duct Temperature||Immersion Temperature||Outside Air Temperature||OSA
10,000Ω Button Style Thermistor @ 77°F (25°C), Type II (Gray Leads), Steel Housing
TEMP SENSOR, ROOM, BUTTON, 10K TYPE II, 8 FT
product family features
±0.36°F (±0.2°C) thermistor accuracy
±0.27°F (±0.15°C) or ±0.54°F (±0.30°C) RTD accuracy
Ultra high accuracy available
Wide selection of thermistor and RTD curves
Optional brass, steel, aluminum metal button style housing
Small, nearly invisible footprint
more information & related documents
The Precon ST-B* Series Button Style Flush-Mount Thermistor and RTD Sensors provide precision room temperature sensing for building automation systems. The active sensing element is made of a highly stable, precision thermistor material or platinum RTD. This design provides moisture/vapor resistance and is bonded to either brass, steel or aluminum button style housingeasily mountable into any wall. This sensor is intended for interior use only.
WALL STEEL BUTTON SENSOR 10K TYPE 2 THERMISTOR