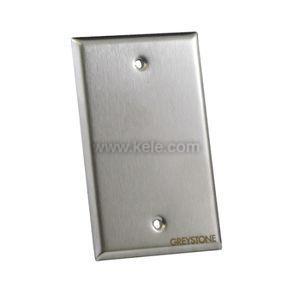 TE200AS8GBTP | Greystone Energy Systems | Temperature Sensors & Transmitters
Designer Room Temperature Sensor, 2.252K Ω NTC Thermistor, ±0.2°C, Grayhill Exposed Push Button-N.O. SPST, 3A, Tamperproof Screws
Manufacturer:
Greystone Energy Systems
MPN:
TE200AS8GBTP
SKU:
TE200AS8GBTP
Availability:
Usually Ships in Less Than 8 Business Days
product specifications
T81U-XR||T85U-XR||T91U-XR||UR||DCP-1.5-W||DCPA-1.2
Room Temperature||Classroom Temperature||Office Temperature||Washdown Environment||Duct Temperature||Immersion Temperature||Outside Air Temperature||OSA
Designer Room Temperature Sensor, 2.252K Ω NTC Thermistor, ±0.2°C, Grayhill Exposed Push Button-N.O. SPST, 3A, Tamperproof Screws
TEMP SENSOR, ROOM, 2.252K, EXECUTIVE, NO SETPOINT, OVERRIDE
more information & related documents
The Model TE200AS Stainless Steel Flush Mount Sensor from Greystone Energy Systems provides precise room temperature sensing for Building Automation Systems, BAS, and HVAC applications. The active sensing element is made of a highly stable precision thermistor material or Platinum RTD. This material is ruggedized to provide moisture/vapor resistance and is bonded to a 304 stainless steel plate. The back is insulated to reduce interior wall temperature influence. This sensor is intended for interior use only.
WALL SENS SURFACE 2252K THM GREYHILL/TAMPERPROOF

TE200AS DATASHEET 2016